SAVE THE DATE! 7-10 May 2019:
7-8 May 2019: Metabolic Disorders (Coriene Catsman- Berrevoets/Michel Willemsen/ Barbara Plecko)
9-10 May 2019: Epilepsy (Lieven Lagae)
REGISTRATION WILL BE OPENED NEARER THE TIME. All EPNS members will be notified by email when registration has opened, and this website page will be updated at the same time.
This is a popular event, and registrations will be accepted on a strictly first come, first served basis.
General information
The EPNS has been organising training courses in paediatric neurology since 2003 specifically aiming at trainees but also at qualified paediatric neurologists who want to refresh their knowledge on certain topics. The aim is to cover most main topics in the syllabus over a three-year cycle and to promote contact between individuals in the speciality in different parts of Europe. The course has a highly interactive character and participants are encouraged to bring (difficult) cases to discuss. The number of participants is limited and applicants who wish to attend both courses will be given priority over those who wish to attend one of the two courses. The cycle of training courses 2015-2017 took place in Budapest, Hungary. We are excited to announce that the next cycle of training courses 2018-2020 will take place in beautiful Alicante, Spain.
IMPORTANT: EPNS courses are only available to EPNS members who have paid their current year annual subscription fee. 
If you are not a member, please email info@epns.info for more information.
Prizes for the best participant case presentations will be awarded.
VENUE
Hotel Complejo San Juan, Calle Doctor Pérez Mateos, 2 – 03550, San Juan (Alicante)
Tlf: +34 96 594 20 50    http://www.complejosanjuan.com
TRANSPORT
More than 150 direct lines with Europe (11.000.000 passengers per year).
1st Low-cost airport in Spain.
AVE (Spanish High Speed Train):2h 20' from Madrid Barajas International Airport
Public transport from Airport/train Station to Hotel
From Alicante Airport
Take bus C6 and get off in Alicante Bus Station.
Walk (10 min) to Reyes Católicos Street and take bus 23. Get off in Alicante, 51 (Hotel Residencial San Juan)
From Alicante Train Station
Walk (5 min) to Avenida Oscar Espla and take bus 23. Get off in Alicante, 51 (Hotel Residencial San Juan)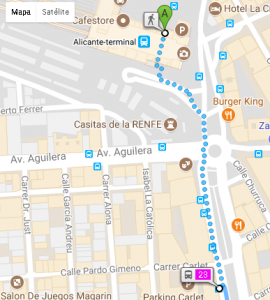 BURSARIES
The EPNS will offer a limited number of bursaries.
Who can apply for a bursary? Applicants must be a member of the EPNS and have paid their 2019 annual subscription fee who are NOT members of the WB4A category. Applicants should be a resident in paediatric neurology, neurology or paediatrics, or a young paediatric neurologist. Applicants must reside in a European country; this is taken as the region for which the European Office of WHO is responsible http://www.euro.who.int/en/countries .Bursary applicants who wish to attend both training courses will be given priority over those who wish to attend one of the two courses.
What does the bursary cover? The bursary will fully cover both the training course fees, accommodation in a shared room for 3 nights in case of single course, for 5 nights in case of both courses and all meals, including breakfast as well as the social programme. If a single room is preferred, the single supplement will have to be paid.
What does the bursary not cover? The bursary will not cover any other costs, including travel costs. The bursary will not cover the cost of staying in a single room, but if the successful bursary participant would prefer a single room, they can cover this cost themselves.
How do I apply for a bursary? the application form will be uploaded to this webpage when the bursary application period has opened.
Who will make the decision about the bursary applications?  The Chair of EPNS Education & Training Committee will review the applications and make the final decision.
 
Note: The registration fee does not include provision for the insurance of participants against personal accidents, illness, cancellation, theft, property loss or damage. Participants are advised to take adequate personal travel insurance.