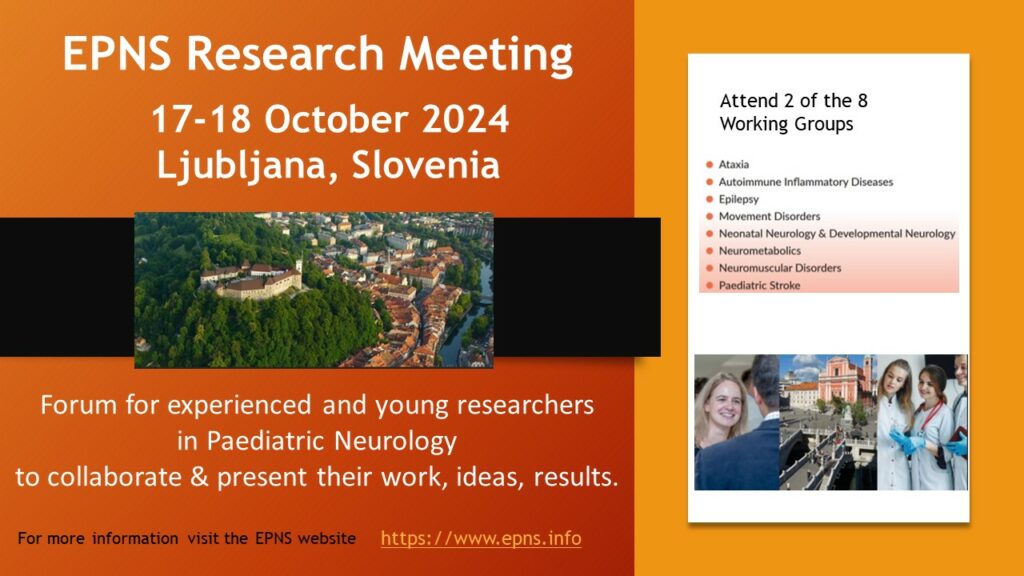 8th EPNS Research Meeting, Ljubljana, Slovenia
Thursday 17 (pm) and Friday 18 (am) October 2024 in-person only
ABSTRACT SUBMISSION PERIOD WILL OPEN SOON
BURSARY APPLICATION PERIOD WILL OPEN SOON
General information: The EPNS has been organising Research Meetings since 2008. With an aim to enhance research in Paediatric Neurology, the meeting brings together leaders in the field, active researchers and young fellows who are interested to join or to set up research projects. It is a forum for researchers in Paediatric Neurology, where they present their work, ideas, results, creating the possibility for good interaction between researchers and premises for networking, future collaborative research in Europe and beyond. Experienced professionals and young researchers get together, in an environment where interactive, vivid discussions can take place around the presented topics.
Who is the EPNS Research Meeting aimed at? The EPNS looks forward to welcoming Child Neurologist researchers at all stages of their career: leaders/senior colleagues, junior scientists and PhD students are all welcome and encouraged to attend.
IMPORTANT: all participants must be EPNS members who have paid their 2024 EPNS membership fee to attend this Research Meeting. If you are not a member, please email info@epns.info for more information.
Organising Committee:
Professor Barbara Plecko, Chair EPNS Scientific and Research Committee, Universitätsklinik für Kinder-und Jugendheilkunde, Graz, Austria
Professor Zvonka Rener Primec, University Children's Hospital Ljubljana, Slovenia
Dr Jasna Oražem Mrak, University Children's Hospital Ljubljana, Slovenia
Venue:
Cultural and Congres centre, Cankarjev Dom (in the centre of Ljubljana).
Preliminary Programme: 
Day 1: Thursday 17 October 2024
11:00-11:30    Registration
11:30-12:00    Lunch
12:15-12:30    Welcome
12:30-13:00    Prof. Dr. Jasna Križ, Canada: Deregulation of Immunity in the injured brain – novel regulatory mechanisms and targets for therapy
13:15-16:00    Working groups 1-4 in parallel rooms: participants attend ONLY ONE:
Autoimmune & Infectious Diseases

Movement Disorders

Neurometabolic

Paediatric Stroke
16:00-16:30    Break
16:30-19:15    Working Groups 5-8 in 4 parallel rooms: participants attend ONLY ONE:
Ataxia

Epilepsy

Neonatal Neurology & Developmental Neurology

Neuromuscular
Evening           Get together and dinner.
Day 2: Friday 18 October 2024
09:00-09.30     Prof. Francesco Muntoni, UK: the BIND Project: Intellectual Disability in DMD
09.30-10:00     Prof. Roman Jerala, Slovenia: Engaging the arsenal of synthetic biology tools for advanced therapies.
10:00-10:30    Break
10:30-12:00    8 selected projects: one from each working group
12:00-12:30    Awards with presentation from the 2 winners
12:30-13:30    Farewell Lunch
What to expect:
3 Plenary lectures
Attend 2 of the 8 working groups: 4 working groups will take place in parallel break-out rooms.
SCROLL TO THE END OF THIS PAGE TO SEE FULL DETAILS ABOUT EACH OF THE 8 WORKING GROUPS PLUS CONTACT DETAILS FOR THE CHAIRS OF EACH GROUP.
 Abstracts: The abstract submission period WILL OPEN SOON
EPNS Research Prizes: 
Two prizes of 2,500 Euros per person awarded to young neurologists who present outstanding, innovative ideas in research in Paediatric Neurology.
Bursaries:
The bursary application period WILL OPEN SOON
EACCME® accreditation: an application is in process.
Registration:
will open in May/June 2024 when a registration link will be added to this webpage.
Number of Participants:
Limited to a maximum of 40 participants per working group.
Successful abstract presenters and successful bursary awardees will be given priority.
All other places will be allocated on a first come, first served basis. If your preferred Working Group has been fully booked, you will have to opportunity to register to attend another Working Group.
Registration Fee:
 This event is in person only.
READ ABOUT THE 8 WORKING GROUPS IN DETAIL:
EPNS Working group and Description
Chairs
Autoimmune and Infectious Diseases Autoimmune and Infectious Diseases working group welcomes contributions addressing all aspects of inflammatory CNS diseases, including autoimmune disorders, infectious diseases and further inflammatory processes affecting the nervous system. Primary goal of the group is to present own research projects. This may include presentations on finished and on newly planned projects. Proposals with calls for collaboration are particularly encouraged.
Martin Häusler Germany) EMAIL

Sandra Bigi (Switzerland) EMAIL

Ataxia: Research in the field of the cerebellum and ataxia is growing fast over the last decade. The ataxia working group is an active group, focussing on international collaboration covering many multidisciplinary aspects of ataxia and the cerebellum. During this workshop opportunity in Lubljana in October 2024 we cordially invite you to present, participate and learn about upcoming and on-going projects. If you have a project to share or discuss, if you would like to participate in international projects, or if you are interested in the amazing cerebellum, please feel welcome to join!
Deborah Sival (Netherlands) EMAIL

Maja Steinlin (Switzerland) EMAIL

Epilepsy working group is a very active formation of epilepsy researchers throughout Europe, many working in accredited centres of the European Reference Network for Rare and Complex Epilepsies, ERN EpiCARE ( https://epi-care.eu) with collaborations overseas. We have collaborated in many successful projects and studies over time. During the EPNS research meeting 2024 we aim to discuss new research proposals, interesting recent and innovative studies and ongoing (multicentre) projects. We would particularly like to give the floor to young researchers in the field to present their research ideas or results during short presentations of 10-12 minutes as well as welcome calls for collaboration with other paediatric epilepsy centres. We are also very interested to discuss identified unmet needs in paediatric epilepsy research. We ask young researchers to submit their abstracts before the end of June 2024. Even if you do not plan to present your work, we would like to encourage you as much to attend our working group meeting and participate in lively brainstorming discussions.  We look forward to receiving your contributions and to meeting you during the EPNS research meeting in Ljubljana, 2024.
Floor Jansen (Netherlands) EMAIL

Lieven Lagae (Belgium) EMAIL

Movement Disorders Dr Jean-Pierre Lin and Prof. Michel Willemsen (Joint Chairs) for the EPNS Research Meeting in Ljubljana 18-19 October 2024, invite you to present your work on any aspect of movement disorders in children and young people. The purpose of the meeting is to allow clinical science researchers to discuss their work, which can span any aspect from the bench to the bedside, in an interactive, positive, and stimulating program and setting. We are particularly interested in clinicians, including allied health professionals, currently or recently involved in work leading to a doctoral thesis. Please contact both of us with a synopsis of your ideas and proposals for the meeting.
Jean-Pierre Lin (UK) EMAIL

Michel Willemsen (Netherlands) EMAIL

Neonatal Neurology & Developmental Neurology: The scientific programme and discussion will cover newest research data on models of perinatal brain injury such as hypoxia and ischemia, and excitotoxic injury, as well as their effects and their contribution to clarify the pathophysiology of acquired neonatal brain injury. We will also include groups interested in brain development, including fetal neurologists and specialists of cortical malformations from basic scientist, neuro(foeto)pathologists, fetal radiologist to paediatric neurologist.

You are welcome to bring your own ideas, to inform about your own model, to get help in choosing an appropriate model for your own research questions. We would like to develop collaborative work within this group, from basic scientists to clinics. Information on neuroprotective strategies will be shared and possible joint research on fetal and perinatal brain injury will be discussed. We are looking forward to the presentation of your own ongoing research in this area. We will give you 10-15 min slots for presentation and discussion! Please submit your contribution with a title and a short summary on the topic. If you do not plan to present your work, we would like to encourage you to attend our working group to participate in lively discussions of ongoing projects

Nadia Bahi-Buisson France) EMAIL

Regina Trollmann (Germany) EMAIL

Neurometabolics: The Neurometabolic Working Group is happy to accept research projects on diagnosis, pathomechanisms, care and treatment of paediatric neurometabolic disorders. The provided platform offers a great opportunity to establish and strengthen European research networks in the field of neurometabolic disorders in child neurology. We explicitly encourage young researchers to present projects at various stages of realisation – from application or recruitment to preliminary conclusions or final results. See you in our EPNS Research Meeting : ) 
Barbara Plecko (Austria) EMAIL

Dimitrios Zafeiriou (Greece) EMAIL

Neuromuscular: The Neuromuscular Working Group aims to discuss the latest research developments relevant for the diagnosis, care and treatment of paediatric neuromuscular diseases. The discussion will focus on the application of new approaches for clinical trials, implementation of novel therapies, and the European reference network for neuromuscular diseases (EURO-NMD). Further, new developments and pitfalls in genetic diagnosis, impact of standards of Care, and transition to adulthood care will be discussed. The working group session also will offer an opportunity for scientists and clinicians to present and discuss own research ideas and results."
Guenther Bernert (Austria) EMAIL

Thomas Sejersen (Sweden) EMAIL

Paediatric Stroke: We are happy to invite you to the meeting of the Paediatric Stroke Working Group in Ljubljana, 17-18 October 2024. After a keynote lecture, we will be happy to learn more about your research projects in childhood neurovascular disorders (planned or already ongoing) and to discuss possibilities for a collaborative network. Ideas for research networks sometimes appear from unsolved cases – so please bring any interesting cases and/or diagnostic/management questions to our next meeting! We are really looking forward to seeing you there!
Lucia Gerstl (Germany) EMAIL

Finbar O´Callaghan (UK) EMAIL