Message from Professor Sameer Zuberi, EPNS President
Dear EPNS Members, Dear friends and colleagues,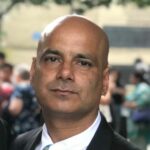 Our field is rapidly evolving and now more than ever it is important for the EPNS to continue to work on behalf of our members and children with neurological disease by collaborating with key stakeholders and advocating at a European and global level to drive forward and raise the voice of child neurology.
The first draft of the Intersectoral Global Action Plan on Epilepsy and Other Neurological Disorders (IGAP) has been published by the World Health Organisation (WHO) for consultation, and we have been invited to submit comments in response before 5 August 2021. You can find more information here: https://www.who.int/news-room/articles-detail/Web-based-consultation-on-the-first-draft-of-the-Intersectoral-global-action-plan-on-epilepsy-and-other-neurological-disorders .
This is the first time in the history of the WHO that neurological disorders and brain health have been captured as a distinct field, enveloped in a global framework of actions and measurements. It represents a unique opportunity to build an integrated response to neurology across the life course and within healthcare systems – to improve lives of people living with neurological disorders worldwide.
I am pleased to report that following EPNS input at the initial consultation stage in April 2021, the 1st draft is more focused on maternal, childhood and adolescent health. There is however still room to boost the attention towards child neurology, and the EPNS will be submitting a response at a Society level.
In addition, we are working with our partners and contributing to the One Neurology response and attending a virtual consultation with the Brain Health division of the WHO. I am also involved in putting together a joint response signed by the presidents of African Child Neurology Association (ACNA), Asian and Oceanian Child Neurology Association (AOCNA), Child Neurology Society (CNS), International Child Neurology Association (ICNA) and the EPNS. 
This is our chance to improve and refine this crucial long-term plan for our field and I would encourage you to look at the link to the WHO website provided above and please send any comments to me at info@epns.info before 1 August 2021.
I wish you all a long and enjoyable summer and look forward to updating you soon. 
Best wishes 
Sameer
20 July 2021