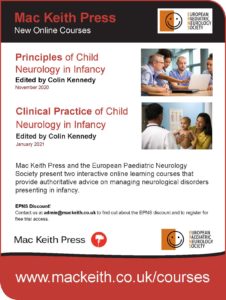 As a result of a collaboration project, the EPNS and Mac Keith Press are offering interactive online learning courses based on: 2nd edition Principle and Practice of Child Neurology in Infancy
Editor: Colin Kennedy Assistant Editors: Gian Paolo Ciaffoni, Leena Haataja, Richard Newton, Thomas Sejersen and Jane Williams. Authors: distinguished experts drawn from all over Europe and the emphasis throughout is on clinical methods, the use of appropriate investigations and treatments, and the avoidance of unnecessary or potentially harmful interventions.
Principles of Child Neurology in Infancy: sets out in a succinct format the description of basic definitions used in classification of paediatric neurologic diseases, principles of working with families, of clinical assessment, of screening, vaccination, use of investigations and treatments, and of evidence-based medicine. Now accredited and available to purchase! Receive a PDF certificate on completion with 10 accreditation points. 
Clinical Practice of Child Neurology in Infancy: an up-to-date summary of current clinical practice in paediatric neurology, covers a wide range of clinical scenarios, and provides authoritative advice from distinguished experts who present an accessible, symptom-based approach to clinical problems and their management. Available: by end of January 2021
Want to learn more about the online courses? SCROLL DOWN and watch the 10 minute podcast discussion between Professor Colin Kennedy and Ass Prof Coriene Catsman-Berrevoets
Who are the online courses for?  Particularly useful for paediatric neurologists, paediatricians, neurologists, and other health professionals involved in the care of children with neurological problems. The emphasis on clinical assessment and the inclusion of some tropical diseases renders the course relevant to all regions of the world including those where resources for health care are limited.
Free trial! For more information and access to a free trial version of the course e-mail admin@mackeith.co.uk
Fee for Online Courses: Payment is for 12 months access with the option to renew access at 50% discount. Fully paid EPNS members are entitled to significant discounts. Email info@epns.info if you would like to become a member of the EPNS. The fee paid depends on the EPNS membership fee category system (which is based on the World Bank classification).
Definitions of EPNS membership fee category system, based on country where you practice:
WB123 = all countries not on the above list
WB4B = all countries highlighted in yellow on the above list
WB4A = all countries on the above list, except those highlighted in yellow
EPNS member discount: To take advantage APPLY TO BECOME AN EPNS MEMBER or email info@epns.info for more information.
Euro prices are subject to exchange rate conversion from GBP fees given on the Mac Keith Press website
Single Course(1 or

2)

2 Course Package(both 1 and

2)

EPNS members WB4A
€ 100
€ 143
EPNS members WB4B and WB123
€ 60
€ 110
ALL Non EPNS members
€ 165
€ 220
Accreditation: application being processed
Course delivery: The course is accessed online and is hosted on a Moodle learning platform.
Logging in will give access to the course learning material split into subject Topics. Within each Topic you can interact with the material by answering Reflective Activities. Your answers will be compiled into your digital workbook that can be saved as a PDF. The end of each Topic will allow you to test your knowledge with a Multiple-Choice Questionnaire.
Each topic is supported by reference papers for further reading and the useful resources section provides free access to six classic paediatric neurology text books.
The course can be worked through at a rate comfortable to you as there is no start or end date for completion. The course is open to you for 12 months and renewal of access is possible. When you have fulfilled all requirements, you will receive a PDF certificate confirming your completion of the course. 
For more detailed information visit: http://www.mackeith.co.uk/courses/
Watch the following 10 minute podcast: