Welcome to the European Paediatric Neurology Society (EPNS)!
An international and independent non-profit making Society for physicians, health professionals, scientists, and students with research and/or clinical interest in Paediatric Neurology. Our mission is to promote excellence in patient care, research, and education to improve the neurological outcome of children and young people in Europe and across the world..
2023 has been another outstanding year for the EPNS, as we have strengthened our established activities, explored new ideas and increased our advocacy efforts, thus ensuring the EPNS is the key voice for paediatric neurology in Europe and beyond.
Let me first, however, on behalf of the EPNS, offer our heartfelt condolences to those in our Society who have lost loved ones in regions involved in conflict. The EPNS expresses in particular concern for medical professionals, scientists and public health workers caring for children with neurological diseases threatened in the Ukraine by the ongoing invasion of Russia and the conflict in Israel/Gaza triggered by the brutal attacks and kidnappings of civilians by the terrorist organisation of Hamas leading also to indiscriminate suffering of the population in Gaza and in particular children.
This year, members of the EPNS Board members reflected on the goals of the EPNS and consequently a clear EPNS Mission Statement has been developed and published CLICK HERE
There are many highlights contained within the EPNS Annual report 2023 which will soon be uploaded HERE , including of course the 15th EPNS Congress in Prague which delivered an outstanding scientific programme and excellent networking opportunities. I hope that those of you who were able to join us in Prague agree, and that attending has supported your continuing medical education and improved care for your patients. I congratulate my colleagues who were involved in organising the event, especially Professor Pavel Kršek, Professor Barbara Plecko and Dr Kveta Janoušková.
During the EPNS Congress in Prague, I was privileged to be a part of the EPNS Honorary Member award ceremony for 2023. EPNS honorary members are described in our constitution as 'persons the society wishes to honour for outstanding distinction in the field of paediatric neurology.' This is not an honour which the EPNS Board bestows lightly, and the 2023 recipients of EPNS honorary membership join an illustrious list of respected colleagues who have made significant contributions to our field. I extend my sincerest congratulations to five esteemed colleagues.
Coriene Catsman-Berrevoets (Netherlands)
Linda de Vries (Netherlands)
Mary King (Ireland)
Sona Nevsimalova (Czech Republic)
Maja Steinlin (Switzerland)
Without a break, plans are now full steam ahead for our next EPNS Congress, which will take place in Munich Germany on 8-11 July 2025, and I have the privilege to be part of the Local Organising Committee which is Chaired by Professor Florian Heinen. It seems a long way away, but please be sure to save this date in your calendar!
Many congratulations to the Barcelona team who were successful with their bid and have been selected to host the 17th EPNS Congress on 14-18 September 2027.
In addition to our EPNS Congresses, by reading the EPNS Annual report 2023 which will soon be uploaded HERE  you will appreciate that the EPNS continues to grow from strength to strength, and learn about our many educational, scientific, advocacy, Society Journal and Young EPNS developments and activities.
The EPNS has a strong educational focus and 2023 has been no different with the recent roll-out of the EPNS Moodle, our ongoing webinars, supporting EPNS fellowships & EPNS Visiting Teachers, training courses taking place in Latvia and Kazakhstan, and the important sitting of the first EPNS Exam. I hope you will be able to get involved in our planned educational activities for 2024.
The EPNS Advocacy and Advocacy Committee is a relatively new committee, but has made a massive impact already, with many activities you can read about in the EPNS Annual report 2023 which will soon be uploaded HERE . I urge you in particular to read about the Intersectoral Global Action Plan on epilepsy and other neurological disorders (IGAP). The IGAP implementation will be a major focus for the EPNS in the coming years ahead.
The Young EPNS (YEPNS) has become an integral and established part of the Society. Their enthusiasm is valued and with pleasure, I can announce that each YEPNS Working Group is now aligned to an EPNS Committee. More details are shared in the YEPNS update in the EPNS Annual report 2023 which will soon be uploaded HERE
I would like to welcome our many new members and thank all EPNS Board members, EPNS members and collaborators for your continued support and trust in the Society. The strength of our Society has always been a result of the input of our incredible members, and I am thankful for everyone's support and contributions.
I hope you will have the opportunity to attend one of our EPNS events in 2024, such as one of the EPNS training courses in Ferrara, Italy, the EPNS Masterclass in Cambridge, UK and our well established EPNS Research Meeting in Ljubljana, Slovenia.
I look forward to another busy year in 2024 at the EPNS and as 2023 draws to an end, I wish you and your families good health and success.
Best regards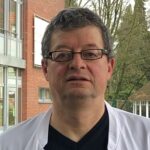 Professor Kevin Rostasy
EPNS President 2022-2026
Education, Promotion, Networking, Science for Paediatric Neurology
Message: November 2023