Welcome to the European Paediatric Neurology Society (EPNS)! A society for physicians with a research or clinical interest in Paediatric Neurology.
With more than 2000 members, the EPNS is a thriving and growing society which continues to play an important role in and beyond Europe by promoting training, clinical care and scientific research in the field of Paediatric Neurology.
It is a special honour to begin my term as President of the EPNS. Our outgoing President, Professor Sameer Zuberi, deserves an enormous thank you from all of us— for guiding the society so well through these difficult times. With my newly elected board, we plan to continue the excellent achievements made so far. It is true to say that my own scientific career would not have been possible without the paediatric neurology networks which the EPNS fostered over the years and my main aim as EPNS President is to further facilitate collaboration on all the levels on which the EPNS is already engaged.  I look forward to the opportunity to lead our Society as we innovate and continue with our educational programmes, scientific activities, and advocacy work to benefit the paediatric neurology community in providing better care for our patients. I thank you for your continued support and I hope to have the opportunity to meet you in person at our EPNS Congress in Glasgow, UK, 28 April-2 May 2022.
Best regards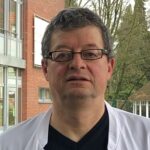 Professor Kevin Rostasy
EPNS President 2022-2026
Message: 7 February 2022
Message from the EPNS President, Professor Kevin Rostasy. On behalf of the EPNS Board and EPNS Members, I express our concern for the safety of our colleagues in the Ukraine and the children and families they care for. This is a time when the words of Luis Pasteur (1822-1895) regain their powerful meaning giving us strength in these difficult times: