Professor Kevin Rostasy, EPNS President 2022-2026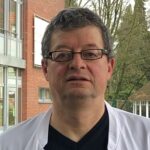 Head of Paediatric Neurology, Witten/Herdecke University, Children's Hospital Datteln, Dr. Friedrich Steiner Str. 5, D-45711 Datteln, GERMANY.
Training: 2014- Head of Paediatric Neurology, Children' Hospital Datteln, University Witten/Herdecke, Germany, 2007-2014 Head of Paediatric Neurology, Medical University Innsbruck, Austria), 2001-2007 Paediatric Neurologist, Department of Paediatrics, Medical University, Göttingen, Germany. 2006 Habilitation/PhD, Medical University Göttingen, "Inflammation and neuroaxonal injury in MS and AIDS dementia complex".  1999-2001 NIH Research Fellow "Molecular and cellular mechanisms of cerebral injury in the AIDS". 1996-1999 Neuropaediatric Residency Program (Floating Hospital for Children, Boston, USA). 1991-1996 MRCP I/II (Member Royal College of Physicians): Edinburgh, Scotland and Senior- and Supervisory-Senior-House-Officer/ Royal Aberdeen Children's Hospital, Scotland.
Fields of clinical and research interest: Neuroimmunology (MOGAD, MS, OMS, Autoimmune encephalitis, GBS/CIDP).
Memberships: EPNS (Board member 2016-2021) and Head of EPNS Research Group Neuroinflammatory Diseases; German Society of Neuropaediatrics (GNP), Board Member 2012-2021. International Paediatric Multiple Sclerosis Study Group (IPMSSG), Member of the Steering committee.