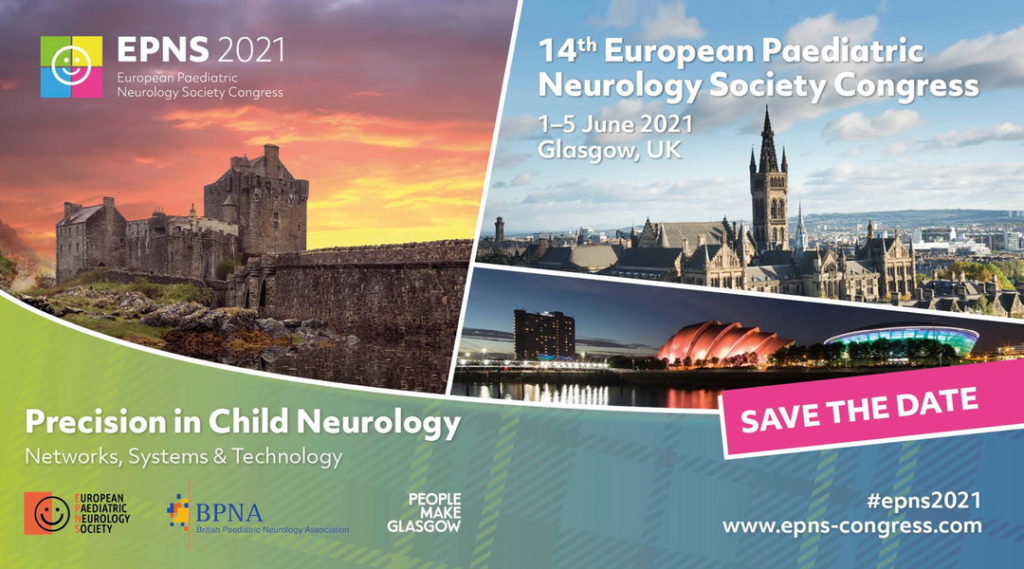 The 14th EPNS Congress will take place at the Scottish Event Campus (SEC) in Glasgow, UK on
Tuesday 1 June 2021 until  Sat 5 June 2021.
The biennial EPNS Congress has become one of the largest and most prestigious gatherings of paediatric neurologists worldwide. Whilst it is impossible at this stage to predict how the situation around COVID-19 might evolve, the EPNS WILL host its 2021 EPNS Congress on 1-5 June 2021. This will be as a hybrid combination of a virtual and face to face event in Glasgow.
First and foremost the safety of our delegates, speakers and all partners is the priority. The international situation is being closely monitored and we will follow the guidelines from governments, the WHO and our scientific colleagues. All we can do at this current time is wait and see how we need to adapt to deliver the event safely. We will keep you informed.
We are optimistic that the EPNS Congress will go ahead in June 2021 and that the thirst for knowledge throughout the paediatric neurology community can and will be met to improve the standards of care of all children with suspected neurological problems.
Theme: precision therapies in child neurology looking at networks, systems and technology.
Visit the congress website https://epns-congress.com/
Preliminary Programme: https://epns-congress.com/programme/
Abstract Submission: now open! https://epns-congress.com/abstracts/
3 Awards: Outstanding abstract, Best ePoster, Best Oral Presentation. https://epns-congress.com/awards/
Bursary Applications: now welcome! https://epns-congress.com/bursaries/
Registration opens: November 2020
Highlight Topics
Neuromuscular Disease
Epilepsy
Movement Disorders
Cerebral Palsy, Stroke & Acquired Brain Injury
Neurogenetics
Neuroimmunology
Technology & App Fair
Congress Formats
Plenary sessions with latest advances
"Story of My Career" interviews with renowned child neurologists
Symposia
Posters & oral presentations
Early morning teaching sessions
Satellite symposia
Mini coffee shop congresses for families in the city
EPNS Congress 2021 Newsletters: