Acute neurology 26-27 February 2024
Neurophysiological investigations 28-29 February 2024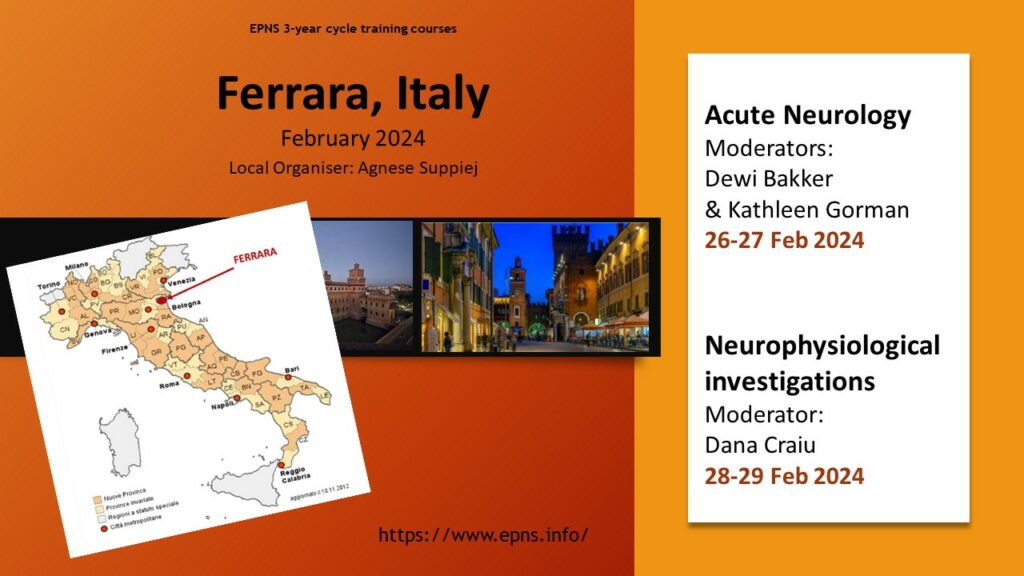 The EPNS has been organising training courses in paediatric neurology since 2003 specifically aiming at trainees/residents but also at qualified paediatric neurologists who want to refresh their knowledge on certain topics. The aim is to cover most main topics in the syllabus over a three-year cycle and to promote contact between individuals in the speciality in different parts of Europe. The course has a highly interactive character and participants are encouraged to bring cases to discuss. The number of participants is limited and applicants who wish to attend both courses will be given priority over those who wish to attend one of the two courses.
The current cycle of training courses is taking place for the period 2024-2026 in Ferrara, the splendid city of art, the magnificent Renaissance capital and a UNESCO World Heritage location.
We look forward to welcoming you to Ferrara!
Professor Agnese Suppiej, EPNS Board Member and Local Organiser
Acute Neurology
Monday 26 and Tuesday 27 February 2024
Moderators: Dr Dewi Bakker and Dr Kathleen Gorman
Programme: to follow
Neurophysiological Investigations
Wednesday 28 and Thursday 29 February 2024
Moderator: Professor Dana Craiu
Programme: to follow
REGISTRATION opens around 2 October 2023
All EPNS members will be notified by MailChimp when registration has opened, and this website page will be updated at the same time. This is a popular event, and registrations will be accepted on a strictly first come, first served basis.
Registration and Fees
To be announced
NB! Registration fee does not include travel insurance. Participants must arrange their own travel and are advised to purchase personal travel insurance.
EACCME® accreditation:
An application will be submitted.
Destination:
Ferrara is a splendid city of art, to be enjoyed by walking its streets, its character – this magnificent Renaissance capital – revealed on every corner. Through its glorious past, you can understand the roots of its present.
The Este family governed here for three centuries and gave the city the appearance it has today: a uniquely planned city, harmoniously fusing Mediaeval and Renaissance architecture, Europe's first modern city. It is precisely these characteristics that secured its UNESCO World Heritage status.
It's a peaceful city to wander on foot or by bike, every step re-living the magical atmospheres of the past.
Venue:
Azienda Ospedaliero-Universitaria di Ferrara, Via Aldo Moro, 8 – 44124 Cona – Ferrara
Accommodation:
to be announced
Prizes
There will be 2 prizes awarded, one per two day course for the BEST CASE PRESENTATION.
The prize will be a certificate and a bursary to attend the EPNS Training Course Ferrara 2025.
Case Presentation Submissions
More information will be announced in due course.
Bookings & Payments
MORE DETAILS WILL BE UPLOADED IN DUE COURSE
How to reach the venue
MORE DETAILS WILL BE UPLOADED IN DUE COURSE
Social Programme
To be announced.