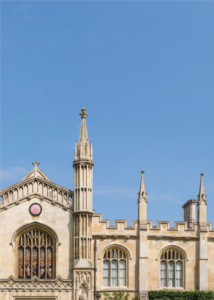 The EPNS Cambridge Masterclass has established itself as something special…Forty trainees and mentors in beautiful surroundings, grappling with some of the challenges of child neurology in the 21st Century. Past topics have included functional symptoms,medical futility and allocation of scarce financial resources in an era of increasing medical possibility.
"A rare treat. I really appreciated the quality of the talks and the interaction between participants" (2018 delegate feedback)

4th EPNS Masterclass: Corpus Christi College Cambridge, UK
10-12 September 2020
Topic: Paediatric Neurology in a post-truth world
Find out more: CLICK HERE
REGISTRATION AND BURSARY APPLICATION PERIOD NOW OPEN!
CLOSING DATE FOR BURSARY APPLICATIONS: 25 MARCH 2020 (scroll down)
When? 10-12 September 2020 (Thursday morning until Saturday lunchtime)
Where? Corpus Christi, Cambridge, United Kingdom.
Accommodation:  Corpus Christi and St Catharine's College en-suite single student rooms.
Number of participants: We are limiting numbers to 40 participants to preserve the interactive nature of the meeting.
Who can participate? Building on the unique features of our first three Masterclasses, this is a small, interactive meeting with – where possible – delegates attending in "couples" of a senior mentoring clinician and the leaders of tomorrow: to share and learn from each other in areas where often there are no easy answers. We therefore prefer participants to register as a pair and complete a joint booking form, but we will accept enquiries from "unattached" individuals. Note: participants registering as a pair do not necessarily have to work at the same hospital but must have a mentor/mentee connection. We suggest the junior partner should be under 45, with a clinical practice in paediatric neurology and active in research and teaching.
Confirmed Speakers:
Sacha Altay (Paris)
Michel Craiu (Romania)
Chris Frazer Smith (UK)
Ben Goldacre (UK)
Ashley Liew (UK)
Kamran Ikram (Netherlands)
Hans Jürgen Christen (Germany)
Tom Kuijpers (Netherlands)
Willem Lemmens (Belgium)
Nick Sireau (UK)
Rhys Thomas (UK)
Odette Wegwarth (Germany)
Registration Fee: 620 Euro per person OR 1,150 Euro per couple
This includes:
three nights' accommodation (Wednesday, Thursday and Friday) with breakfast at either Corpus Christi or St Catharine's College in a single STUDENT room with en-suite facilities.
access to the full Master Class programme
lunch on Thursday, Friday and Saturday
a conference dinner in the College dining hall on Friday evening followed by an open after-dinner discussion of issues arising.
Coffee and tea during all breaks.
Attendees are responsible for organising their own transport and any additional nights' accommodation. If advice regarding accommodation is required, please email info@epns.info
Optional Social Event on Thursday evening: 50 Euros per person
This includes:
Punting (or guided walk if raining)
Organ recital at Magdalene college
Dinner at 'The Eagle', a traditional English pub opened in 1667 where Watson and Crick celebrated discovering DNA and 100's of WW2 RAF pilots left behind a wall of messages in the hope they were never forgotten.
How to register:
If registering as a mentor and young neurologist couple: complete: CLICK HERE
If registering as an individual: complete: CLICK HERE
IMPORTANT: PLEASE NOTE:
Places are limited and we expect demand to be high.
Both attendees (mentor and young neurologist) must be fully paid up members of the EPNS (if you would like to join the EPNS, please email info@epns.info for guidance).
Bookings will be taken on a

first come first served basis,

secured on receipt of full payment.
Payment can be made using 2 methods:

by bank transfer (full details on the booking form)
or by on-line payment by logging onto the EPNS website.

Contact info@epns.info if a password reminder is required.
To pay for the 'couple' fee one EPNS member will need to make this payment via their login.
To pay for the social event – add the number of tickets required to the basket
To pay for additional accommodation – add the number of nights and rooms required to the basket. E.g if one extra night is required for 2 single rooms – add '2' to the basket.
 Bursaries
The EPNS is delighted to offer 2 bursaries. Each bursary will grant free registration for a mentor and young neurologist couple to attend.
Who can apply for a bursary? The mentor and young neurologist bursary joint applicants must both be members of the EPNS and have paid their 2020 annual subscription fees. Both applicants must practice in a country which is a  World Bank Class 1, 2 or 3 nation, i.e. the country of residence is not listed here World Bank list of high income economies 2020 The young neurologist should be under 45 years old, with a clinical practice in paediatric neurology and active in research and teaching.
What does the bursary cover? The bursary will fully cover the masterclass registration fee for both the mentor and young neurologist which includes 3 night's accommodation and all meals included in the registration fee during the event except the social event on Thursday 10 September. Tickets for this event can be purchased at a cost of 50 Euros per person.
What does the bursary not cover? The bursary will not cover any other costs, for example travel costs, extra night's accommodation, etc.
How do we apply for a bursary? If you would like to apply for a bursary, please download the application form: CLICK HERE and send it with your CVs by email to info@epns.info
Do we need to register for the EPNS masterclass before we are notified about the outcome of our bursary application? No, it is not necessary for either parties to register for the masterclass before you are notified about the outcome of your bursary request. Two mentor/young neurologist couple places will be reserved, and the registration form will need to be completed by successful bursary candidates as soon as possible after notification of the outcome. If the masterclass is not fully booked at the time the bursary application outcome is announced, unsuccessful bursary candidates are welcome to register as full paying participants. However if the event is fully booked, it will not be possible for unsuccessful bursary candidates to register to attend the event.
Who will make the decision about the bursary applications?  A selection committee comprising of members from the EPNS Board will review the applications and make the final decision.
When is the closing date for bursary applications? The closing date for applications is 25 March 2020.
.