Masterclass on Childhood Epilepsies and Dystonia: 19-20 December 2019: Baku, Azerbaijan
EPNS has kindly supported the Azerbaijanian local event, the Azerbaijan Neurology Week, held in Baku, Azerbaijan. EPNS invited speakers, Professor Finbar O'Callaghan, Dr Jean-Pierre Lin and Dr Naila Ismayilova, conducted a 2-day Masterclass in Paediatric Neurology for the first time in this region. This intense course included lectures, workshops and interactive sessions with participants in Paediatric Epilepsy and Dystonia (https://neuroweek.az/en-content-28.html). There were outstanding lectures like on Infantile spasms, mTORopathies, Ketogenic Diet treatment, Neuromodulation and General Principals of Management of Movement Disorders. This event was highlighted in a local media and featured on TV national news. Press play on the video link below to see more!
Seventy paediatric neurologists from Azerbaijan and Kazakhstan were thrilled to attend this course. The EPNS speakers were pleasantly surprised by a high level of enthusiasm, involvement and interest demonstrated by all participants. Local paediatric neurologists recognised a big importance in continuation of EPNS Masterclasses in Baku on a yearly basis. After completion of this course, local organisers kindly requested EPNS speakers to expand on this achievement and to support their next national event in Paediatric Neurology in 2020.
The EPNS would like to sincere thank inspiring participants for making this Masterclass such a big success. We would like to genuinely thank the EPNS speakers for spending their time and sharing their expertise with Azerbaijani and Kazakh paediatric neurologists. The EPNS also extends its gratitude to the local organisers, Professor Ayten Mammadbayli and Professor Rena Shiraliyeva, for their excellent help in organising this event and creating such a welcoming and open atmosphere.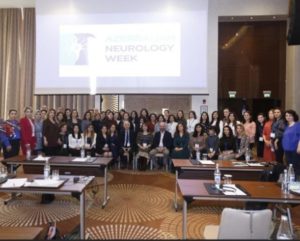 Professor Finbar O'Callaghan, Professor Ayten Mammadbayli Dr Naila Ismayilova, Dr Jean-Pierre Lin & all EPNS course participants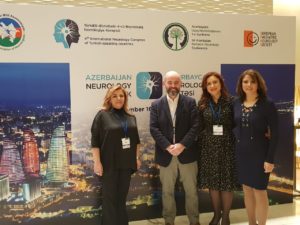 Professor Finbar O'Callaghan, Professor Ayten Mammadbayli Dr Naila Ismayilova and an EPNS course participant,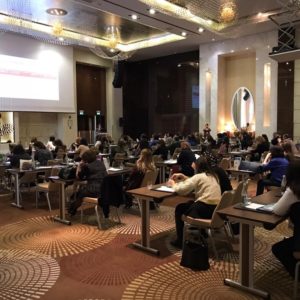 Lecture on 'Ketogenic diet therapy in children with refractory epilepsies' by Dr Naila Ismayilova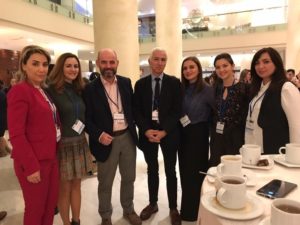 Professor Finbar O'Callaghan, Dr Jean-Pierre Lin and EPNS course participants
Società italiana di Neurologia Pediatrica (SINP) National Meeting: 28-30 November 2019: Naples, Italy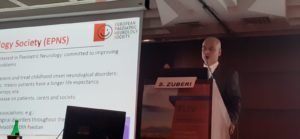 Professor Sameer Zuberi and Professor Nadia Bahi-Buisson were honoured to represent the EPNS as speakers. Here is the programme: CLICK HERE
'Great science, great company & some of the best food in the world. Inspiring talks from young child neurologists. The future of the EPNS.'
2nd Congress on Perinatal Neurology: 17-18 October 2019: Kiev, Ukraine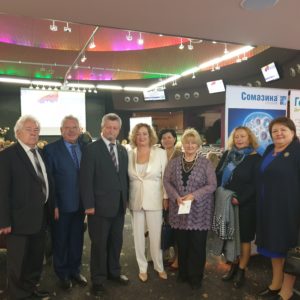 The 2nd National Congress on perinatal neurology was held in Kiev 17-18 October 2019. The venue was Khreschatyk Hotel. 350 participants attended  the meeting. There were paediatric neurologists, neonatologists, pediatricians who represented all parts of Ukraine. There were also guests from Belarus and Azerbaijan. During 2 working days of the Congress different topics were covered by 25 speakers: diagnosis and treatment of hypocsic – ischemic brain injury, seizures in neonates, inborn defects of metabolism, neuromuscular diseases, brain abnormalities. The congress had been supported by EPNS. As a part of EPNS initiative on support of educational event we had great opportunity to welcome Professor Tally Lerman-Sagie, the member of the EPNS Board, who presented two lectures on brain abnormalities and medullar abnormalities – their prenatal diagnosis. The lectures were accepted with big interest and stimulated lively discussion. EPNS had been promoted by brief presentation on the activities of the Society.  President of the congress Dr Ludmila Kirilova, all organizers and participants of the Congress are very thankful to the Society, EPNS board members, President of EPNS Sameer Zuberi and EPNS Chair of the Education and Training Committee, Coriene Catsman-Berrevoets, for the support of Paediatric Neurology in Ukraine.
Joint EPNS/SINP teaching course: 11-12 April 2019: Catania, Sicily
"2nd Advanced Residential Course in Neonatal Epileptology and Neurophysiology"
Following the success of the meeting in 2018, the SINP (Society for Italy Pediatric Neurology) kindly invited speakers from the EPNS Board to participate in a residential joint EPNS/SINP teaching course in 2019. Professor Sameer Zuberi, EPNS President, was honoured to join the event as a speaker. https://www.epns.info/wp-content/uploads/2019/02/2nd-neonatal-Epileptology-Clinical-Neurophysiology-Course-Catania-Sicily-11_13-April-2019.pdf