Joint EPNS/SINP teaching course: 11-12 April 2019: Catania, Sicily
"2nd Advanced Residential Course in Neonatal Epileptology and Neurophysiology"
Following the success of the meeting in 2018, the SINP (Society for Italy Pediatric Neurology) kindly invited speakers from the EPNS Board to participate in a residential joint EPNS/SINP teaching course in 2019. Professor Sameer Zuberi, EPNS President, was honoured to join the event as a speaker. https://www.epns.info/wp-content/uploads/2019/02/2nd-neonatal-Epileptology-Clinical-Neurophysiology-Course-Catania-Sicily-11_13-April-2019.pdf
2nd Congress on Perinatal Neurology: 17-18 October 2019: Kiev, Ukraine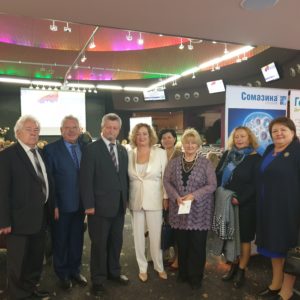 The 2nd National Congress on perinatal neurology was held in Kiev 17-18 October 2019. The venue was Khreschatyk Hotel. 350 participants attended  the meeting. There were paediatric neurologists, neonatologists, pediatricians who represented all parts of Ukraine. There were also guests from Belarus and Azerbaijan. During 2 working days of the Congress different topics were covered by 25 speakers: diagnosis and treatment of hypocsic – ischemic brain injury, seizures in neonates, inborn defects of metabolism, neuromuscular diseases, brain abnormalities. The congress had been supported by EPNS. As a part of EPNS initiative on support of educational event we had great opportunity to welcome Professor Tally Lerman-Sagie, the member of the EPNS Board, who presented two lectures on brain abnormalities and medullar abnormalities – their prenatal diagnosis. The lectures were accepted with big interest and stimulated lively discussion. EPNS had been promoted by brief presentation on the activities of the Society.  President of the congress Dr Ludmila Kirilova, all organizers and participants of the Congress are very thankful to the Society, EPNS board members, President of EPNS Sameer Zuberi and EPNS Chair of the Education and Training Committee, Coriene Catsman-Berrevoets, for the support of Paediatric Neurology in Ukraine.
Società italiana di Neurologia Pediatrica (SINP) National Meeting:
28-30 November 2019: Naples, Italy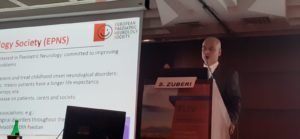 Professor Sameer Zuberi and Professor Nadia Bahi-Buisson were honoured to represent the EPNS as speakers. Here is the programme: CLICK HERE
'Great science, great company & some of the best food in the world. Inspiring talks from young child neurologists. The future of the EPNS.'
Masterclass on Childhood Epilepsies and Dystonia: 19-20 December 2019: Baku, Azerbaijan
With pleasure we can announce that Professor Finbar O'Callaghan, Dr Jean-Pierre Lin and Dr Naila Ismayilova will be participating in the meeting and representing the EPNS.
Here is the programme: CLICK HERE