6th EPNS Research Meeting 2018: Alicante, Spain on 26 – 27 October 2018.
The 6th EPNS Research Meeting took place in Alicante on 26-27 October 2018 in Sant Joan d'Alacant, Alicante with an environment that stimulated international collaborations and research in Pediatric Neurology.
There were 2 prestigious invited speakers and 8 different working groups. Participants were given the opportunity to attend one working group from the following first block:
Epilepsy
Ataxia
Neonatal
Neuromuscular
And one working group from the second block:
Autoimmune
Neurometabolic
Stroke
Movement Disorders
We were thrilled to welcome many junior pediatric neurologists who actively participates actively in the working groups.
EPNS RESEARCH PRIZE
There is an EPNS award at every Research Meeting. The EPNS Research Prize (2500 Euros per person) in Alicante was awarded to two young neurologists who presented outstanding, innovative ideas in research in Paediatric Neurology. A commission of the board members will decided the prize recipients.
Sincere congratulations to: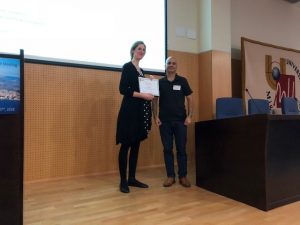 Congratulations to Lucia Abela from the United Kingdom, who is one of the EPNS Research Award winners for her excellent presentation 'Development of a Patient-Derived Dopaminergic Neuronal Cell Model to Study Disease Mechanisms in Childhood Parkinsonism '.
Congratulations to Océane Perdaens from Belgium, who is one of the EPNS Research Award winners for her excellent presentation 'The functional role of micro-RNA on the T-cell dependent immune dysregulation in multiple sclerosis'.
The organising committee:
Prof. Dr. Francisco Carratala (local organiser)          Prof. Dr. Barbara Plecko (chair EPNS Research &Scientific Committee)
PROGRAMME: EPNS Research Meeting 2018 Alicante PROGRAMME.docx
WORKING GROUP DETAILS: for information
Ataxia

Dear cerebellar group, we hope that many of you will join this year's research meeting in Alicante – two main talks on cerebellum! You cannot miss out on that! We are looking forward to the presentation of your own ongoing research in this area- whether close to publication or just starting a new project: come to Alicante to discuss your work with us! We will give you 15-20 min slots for presentation and discussion! Please submit your contribution with a title and 2-3 sentences on the topic! Looking forward to seeing you. Preliminary Programme: EPNS Research Meeting 2018 Ataxia working group programme

Chairs: Maja Steinlin and Deborah Sival

Epilepsy
The EPNS epilepsy working group is a very active formation of epilepsy researchers throughout Europe (with many collaborations overseas) who have collaborated in many successful projects and studies over the last years. The epilepsy working group invites researchers to present their projects or to call for new collaborations during the EPNS research meeting in Alicante. If you do not plan to present your work, we would like to encourage you to attend our working group to participate in lively discussions of ongoing projects. We would like to give the floor to young researchers in the field. In addition, if time allows an update will be given of ongoing international studies and trials and the future plans in EPICARE, the ERN on epilepsy (https://epi-care.eu ).  We look forward to receiving your contributions and to meeting you in Alicante. Programme (updated on 21Sep2018):EPNS Research Meeting 2018 Epilepsy working group programme 3

Chairs: Alexis Arzimanoglou and Floor Jansen

Neonatal Neurology and Neuroprotection
The scientific program and discussion will cover newest research data on models of perinatal brain hypoxia and ischemia, their effects and their contribution to clarify the pathophysiology of hypoxic ischemic brain injury. You are welcome to bring your own ideas, to inform about your own model, to get help in choosing an appropriate model for your own research questions. Information on neuroprotective strategies will be shared and possible joint research on neuro-protectives in asphyxia will be discussed. Participants are encouraged to send their short proposals (or title of the presentation) to the chairs. Preliminary Programme: EPNS Research Meeting 2018 Neonatal Neurology and Neuroprotection working group programme 2

Chairs: Regina Trollmann and Nadia Bahi-Buisson

Neuromuscular
The Neuromuscular Working Group aims to discuss the latest research developments and plans relevant for the diagnosis, care and treatment of paediatric neuromuscular diseases. The discussion will focus on the application of news in approaches for clinical trials, implementation of novel therapies, and the European reference network for neuromuscular diseases (EURO-NMD). Further, transitioning to adulthood will be discussed. The working group session will emphasise an opportunity for scientists and clinicians to present and discuss own research ideas and results. Programme: EPNS Research Meeting 2018 Neuromuscular working group programme
Chairs: Thomas Sejersen and Nina Barisic
Autoimmune inflammatory diseases
The autoimmune / inflammatory session will be divided into two parts. The first part mainly consists of a lecture on psychiatric problems in inflammatory CNS diseases held by Dr. Marie Raffin, CHU Pitié-Salpêtrière, Paris. The differentiation between primary psychiatric disesases and psychiatric smptoms that occur in the course of an inflammatory disorder is challenging and of growing importance. Optimum treatment of and effecitve research on this topic requires close collaboration of child psychiatrists and child neurologists. The second part consists of short presentations from participants on finished or planned research projects, including calls for collaboration on all kinds of inflammatory diseases of the nervous system. So far 10 topics have been submitted. Further proposals are welcome. Preliminary Programme: EPNS Research Meeting 2018 inflammatory_autoimmune session working group programme

Chair: Martin Häusler and Kevin Rostasy

Movement Disorders
The Movement Disorders Working Group  for the EPNS Research Meeting in Alicante 26-28th October 2018 invites you to present your work on any aspect of movement disorders in children and young people. The purpose of the meeting is to allow clinical science researchers to discuss their work, which can span any aspect from the Bench to the Bedside, in a 3-hour session in a positive and stimulating programme & setting. We are particularly interested in clinicians, including Allied Health Professionals, currently or recently involved in work leading to a doctoral thesis.Please contact both of us with a synopsis of your ideas and proposals for the meeting!  Preliminary Programme:EPNS Research Meeting 2018 Movement Disorders working group programme

Chairs: Jean-Pierre Lin (Chair): jeanpierrelin@icloud.com  and Professor Michel Willemsen (Co-chair): Michel.Willemsen@radboudumc.nl

Neurometabolics
The Neurometabolic Working Group aims to discuss research projects for the diagnosis, care and treatment of paediatric neurometabolic diseases. The working group session will provide an opportunity for scientists and clinicians to present own research ideas and results. The discussion will focus on the identification of new biomarkers, current and future clinical trials and international projects in the field. Programme: EPNS Research Meeting 2018 Neurometabolic working group programme

UPDATE: we are pleased to advise that we have a sufficient number of presentations and we the programme is now finalised. Participants are still of course welcome to register to join our Neurometabolics Working Group, however we cannot take any more presentation contributions. Please do not hesitate to contact us if you have any questions. best wishes

Chairs: Linda de Meirleir and Barbara Plecko

Paediatric Stroke
We are very happy to invite you to the 2nd meeting of the Paediatric Stroke Working Group. After providing an overview of current literature, we`ll be happy to learn more about your research projects (ongoing or planned) and discuss possibilities for a collaborative network. As third part of the meeting, participants are also kindly invited to present 2 unsolved or instructive cases.  Please contact us if you wish to present a research project (15`) or a case (10`). We are looking forward to an interesting and constructive meeting!

Preliminary pogramme: EPNS Research Meeting 2018 Stroke working group preliminary programme2

Further proposals for presentations are very welcome!

Chairs: Finbar O´Callaghan and Lucia Gerstl
Registration included:
Lunches and Coffee break at UMH (26th and 27th October).
Dinner at Santa Barbara Castle (26th October).
Transport from Hotel Complejo San Juan and Hotel Meliá to the Castle (26th October).
SOCIAL PROGRAMME: Dinner at Santa Barbara Castle
The Santa Barbara Castle is located on the top of Benacantil Mountain, 166 metres above see level; it gives to the city a great strategic value. From there, you can see almost the entire bay of Alicante. On its slopes have been found archaeological remains of the Bronze Age, Iberian and Roman, but the origin of the fortress is in the late ninth century with the Muslim rule.Transport will be available to the Castle for dinner at 20h00 from Hotel Complejo San Juan (San Juan de Alicante) and from Hotel Meliá (Alicante).
MEETING VENUE
SEVERO OCHOA BUILDING (Universidad Miguel Hernández. Campus de San Juan), Av. de la Cadena, 33-47, 03550 Sant Joan d'Alacant, Alicante, Spain. https://goo.gl/maps/5CV9pLPbsjS2