6th EPNS Research Meeting 2018: Alicante, Spain on 26 – 27 October 2018.
REGISTRATION NOW OPEN!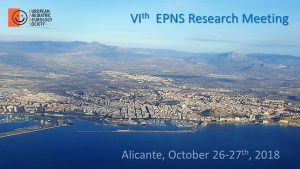 INVITATION
We are very pleased to invite you to the 6th EPNS Research Meeting taking place in Alicante, a dynamic, attractive Spanish city with a castle, old quarter and long waterfront. The meeting will take place on 26-27 October 2018 at the Edificio Severo Ochoa"  Av. de la Cadena, 33-47, 03550 Sant Joan d'Alacant, Alicante and we hope this environment will stimulate international collaborations and research in Pediatric Neurology.
There will be prestigious invited speakers joining the meeting. In addition, there will be 8 different working groups. Participants will be given the opportunity (subject to places being available) to attend one working group from the following first block:
Epilepsy
Ataxia
Neonatal
Neuromuscular
And one working group from the second block:
Autoimmune
Neurometabolic
Stroke
Movement Disorders
We strongly encourage that in particular junior pediatric neurologists participate actively in preparation of the workshops including the presentation of a research project in the respective working groups. Working Group Chairs should be contacted directly to make arrangements for your presentation, if possible before 31st August.
Please see the information below for more information about the event, the registration process and bursaries available.
We hope to welcome you to Alicante this October!
Best wishes
The organising committee:
Prof. Dr. Francisco Carratala (local organiser)          Prof. Dr. Barbara Plecko (chair EPNS Research &Scientific Committee)
REGISTRATION:
Registration NOW OPEN USING THIS LINK: EPNS Research Meeting 2018 Alicante Registration Form
Registration fee payment:  EPNS Research Meeting Alicante 2018
Registrations will be confirmed when payment has been received in full.There is a maximum of 40 participants per working group which will be booked on a first come, first served basis.
PROGRAMME: EPNS Research Meeting 2018 Alicante PROGRAMME.docx
WORKING GROUP DETAILS (see lower down the page for working group Chair email addresses):
Ataxia

Dear cerebellar group, we hope that many of you will join this year's research meeting in Alicante – two main talks on cerebellum! You cannot miss out on that! We are looking forward to the presentation of your own ongoing research in this area- whether close to publication or just starting a new project: come to Alicante to discuss your work with us! We will give you 15-20 min slots for presentation and discussion! Please submit your contribution with a title and 2-3 sentences on the topic! Looking forward to seeing you.

Chairs: Maja Steinlin and Deborah Sival

Epilepsy
The EPNS epilepsy working group is a very active formation of epilepsy researchers throughout Europe (with many collaborations overseas) who have collaborated in many successful projects and studies over the last years. The epilepsy working group invites researchers to present their projects or to call for new collaborations during the EPNS research meeting in Alicante. If you do not plan to present your work, we would like to encourage you to attend our working group to participate in lively discussions of ongoing projects. We would like to give the floor to young researchers in the field. In addition, if time allows an update will be given of ongoing international studies and trials and the future plans in EPICARE, the ERN on epilepsy (https://epi-care.eu ).  We look forward to receiving your contributions and to meeting you in Alicante.

Chairs: Alexis Arzimanoglou and Floor Jansen

Neonatal Neurology
The scientific program and discussion will cover newest research data on models of perinatal brain hypoxia and ischemia, their effects and their contribution to clarify the pathophysiology of hypoxic ischemic brain injury. You are welcome to bring your own ideas, to inform about your own model, to get help in choosing an appropriate model for your own research questions. Information on neuroprotective strategies will be shared and possible joint research on neuro-protectives in asphyxia will be discussed. Participants are encouraged to send their short proposals (or title of the presentation) to the chairs.

Chairs: Regina Trollmann and Nadia Bahi-Buisson

Neuromuscular
The Neuromuscular Working Group aims to discuss the latest research developments and plans relevant for the diagnosis, care and treatment of paediatric neuromuscular diseases. The discussion will focus on the application of news in approaches for clinical trials, implementation of novel therapies, and the European reference network for neuromuscular diseases (EURO-NMD). Further, transitioning to adulthood will be discussed. The working group session will emphasise an opportunity for scientists and clinicians to present and discuss own research ideas and results.
Chairs: Thomas Sejersen and Nina Barisic
Autoimmune inflammatory diseases
The inflammatory Working Group will have two main focuses.  The first focus will be on psychiatric aspects of neuroinflammatory diseases. This will include a lecture and presentations of clinical cases and ongoing research from participants of the working Group.

In the second Part participants will present ongoing research projects on all different areas of immune-mediated or infectious disease of the nervous system in order to promote international collaboration. All participants are kindly invited to make proposal for both aspects of the autoinflammatory session.

Chairs: Kevin Rostasy and Martin Häusler

Movement Disorders
The Movement Disorders Working Group for the EPNS Research Meeting in Alicante 26-28th October 2018 invites you to present your work on any aspect of movement disorders in children and young people. The purpose of the meeting is to allow clinical science researchers to discuss their work, which can span any aspect from the Bench to the Bedside, in a 3-hour session in a positive and stimulating programme & setting. We are particularly interested in clinicians, including Allied Health Professionals, currently or recently involved in work leading to a doctoral thesis. Please contact both of us with a synopsis of your ideas and proposals for the meeting!

Chairs: Jean-Pierre Lin and Michel Willemsen

Neurometabolics
The Neurometabolic Working Group aims to discuss research projects for the diagnosis, care and treatment of paediatric neurometabolic diseases. The working group session will provide an opportunity for scientists and clinicians to present own research ideas and results. The discussion will focus on the identification of new biomarkers, current and future clinical trials and international projects in the field.

Chairs: Linda de Meirleir and Barbara Plecko

Paediatric Stroke
We are very happy to invite you to the 2nd meeting of the Paediatric Stroke Working Group. After providing an overview of current literature, we`ll be happy to learn more about your research projects (ongoing or planned) and discuss possibilities for a collaborative network. As third part of the meeting, participants are also kindly invited to present 2 unsolved or instructive cases.  Please contact us if you wish to present a research project (15`) or a case (10`). We are looking forward to an interesting and constructive meeting!

Chairs: Finbar O´Callaghan and Lucia Gerstl
NUMBER OF PARTICIPANTS
A maximum of 150 participants. Places will be allocated on a first come, first served basis.
A maximum of 40 participants per working group will be permitted.
REGISTRATION FEES
120 Euro (same for both EPNS members and non-members)
All participants must book and pay for their own travel and accommodation (see below for guidance).There will be no on-site registration.
Important
Closing date for registration: 19th October 2018
The registration will not be effective until the payment is completed.
Lunches and Coffee break at UMH (26th and 27th October).
Dinner at Santa Barbara Castle (26th October).
Transport from Hotel Complejo San Juan and Hotel Meliá to the Castle (26th October).
Registration fee does not include individual insurance of participants against personal accidents, illness, cancellation, theft, property loss or damage. Participants are advised to purchase personal travel insurance. Delegates must organise and pay for their own accommodation and transport. See below for accommodation options and transport guidance
Upon receipt of the registration and payment, each participant will receive a confirmation from the Conference Secretariat by email. If confirmation has not been sent after 1 week of the application, please contact at eventos@grupoesoc.es Payments sent after 20 October 2018 may not be confirmed in written form. In this case, please bring a copy of your payment with you to the registration desk. Any modification requests should be sent to Conference Secretariat.
EPNS MEMBERSHIP
All participants are encouraged to become members of the EPNS https://www.epns.info/
BURSARIES: APPLICATION PERIOD NOW CLOSED: APPLICANTS WILL BE NOTIFIED OF THE OUTCOME BY MID JULY 2018
EPNS RESEARCH PRIZE
There is an EPNS award at every Research Meeting. The EPNS Research Prize (2500 Euros per person) will be awarded to two young neurologists who present an outstanding, innovative idea in research in Paediatric Neurology. A commission of the board members will decide the prize recipients.
MEETING VENUE
SEVERO OCHOA BUILDING (Universidad Miguel Hernández. Campus de San Juan), Av. de la Cadena, 33-47, 03550 Sant Joan d'Alacant, Alicante, Spain. https://goo.gl/maps/5CV9pLPbsjS2
We will have lunches at:NON PROFIT LUKAS FUNDATION (www.fundacionlukas.org) Carrer de la Passió, 2 (detrás del Hospital Universitario) C.P: 03550. Sant Joan d'Alacant, Alicante, Spain https://goo.gl/maps/vGBE6gRzWG52
ACCOMMODATION
All participants must book their own travel and accommodation. Below please find 2 suggested accommodation options. One is near the meeting venue and one is in Alicante town:
Hotel near the Meeting Venue Accommodation: Hotel Complejo San Juan The Hotel Complejo San Juan is in a privileged location in San Juan of Alicante, to 5 minutes of the beach of San Juan and to 10 minutes of Alicante's city center. 12 minutes walking to the Conference Venue. This emblematic hotel complex has an extension of 65.000 m2 surrounded with gardens and offers numerous services as restaurant, buffet, bar, lounge with terrace, swimming pool, chapel, library, gymnasium, 6 tennis courts, 2 padel tracks.Professional Organisation Rates (15% discount on the general price)*/ Tarifas Familiares mutualistas, profesionales o entidades con acuerdo.
TO BOOK YOUR ROOM WITH EPNS RATES. PLEASE CLICK ON THIS LINK:  Hotel Complejo San Juan
Website is in Spanish. Visit https://translate.google.com/ or contact eventos@grupoesoc.es if any translation assistance is required)
ROOM

(Building 3. Reonovated Room)

PRICE IN BED AND BREAKFAST

 (VAT Included)

Double Room Individual Use
55,45.-€
Double Room
78,30.-€

Hotel in Alicante Town: Hotel Meliá Alicante The Meliá Alicante provides fully equipped rooms, all outward facing with views of Postiguet Beach or the marina.The hotel offers several dining options based on Mediterranean cuisine, provides guests with the exclusive The Level service and the Wellness Center Alicante next to the hotel (Spa with exclusive rates for our guests). 10 minutes by car to the venue https://goo.gl/maps/UjbwvdBtR8A2 45 minutes by bus to the venue https://goo.gl/maps/JiZo3dx9UPs
TO BOOK YOUR ROOM WITH EPNS RATES. PLEASE CLICK ON THIS LINK: EPNS Research Meeting Hotel Meliá
| | |
| --- | --- |
| ROOM | PRICE (VAT Included) in Bed and Breakfast |
| Double Room Individual Use | 156,60.-€ |
| Double Room | 170,10.-€ |

PRESENTATIONS
Presentations regarding the workshop topics can be sent to the Working Group Chairs by e-mail. If you do not apply for a bursary no abstract will be needed. Please contact the Working Group Chairs directly if you have any questions about your presentation. See below for Working Group Chair email addresses.
WORKING GROUP CHAIR: CONTACT DETAILS
Ataxia
Maja Steinlin
Maja.Steinlin@insel.ch
Deborah Sival
d.a.sival@umcg.nl
Autoimmune inflammatory diseases
Kevin Rostasy
k.rostasy@kinderklinik-datteln.de
Martin Häusler
mhaeusler@ukaachen.de
Epilepsy
Alexis Arzimanoglou
aarzimanoglou@orange.fr
Floor Jansen
f.e.jansen@umcutrecht.nl
Movement Disorders
Jean-Pierre Lin

Michel Willemsen

jeanpierrelin@me.com

Michel.Willemsen@radboudumc.nl

Neonatal Neurology
Regina Trollmann
regina.trollmann@uk-erlangen.de
Nadia Bahi-Buisson
nadia.bahi-buisson@aphp.fr
Neuromuscular
Thomas Sejersen
Thomas.Sejersen@ki.se
Nina Barisic
ninabarisic@yahoo.com
Neurometabolics
Linda de Meirleir
Linda.DeMeirleir@uzbrussel.be
Barbara Plecko
barbara.plecko@medunigraz.at
Paediatric Stroke
Finbar O´Callaghan
f.o'callaghan@ucl.ac.uk
Lucia Gerstl
Lucia.Gerstl@med.uni-muenchen.de
SOCIAL PROGRAMME
Friday 26 October 2018: Dinner at Santa Barbara Castle.The Santa Barbara Castle is located on the top of Benacantil Mountain, 166 metres above see level; it gives to the city a great strategic value. From there, you can see almost the entire bay of Alicante. On its slopes have been found archaeological remains of the Bronze Age, Iberian and Roman, but the origin of the fortress is in the late ninth century with the Muslim rule.Transport will be available to the Castle for dinner at 20h00 from Hotel Complejo San Juan (San Juan de Alicante) and from Hotel Meliá (Alicante).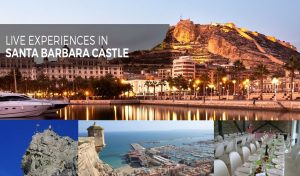 TRANSPORT
More than 150 direct lines with Europe (11.000.000 passengers per year).
1stLow-cost airport in Spain.
New terminal.
AVE (Spanish High-Speed Train):2h 20' from Madrid Barajas International Airport
Public transport from Alicante Airport 
Take bus C6 and get off in Alicante Bus Station.
Walk (10 min) to Reyes Católicos Street and take bus 23.
Public transport from Alicante Train Station
Walk (5 min) to Avenida Oscar Espla
take bus 23.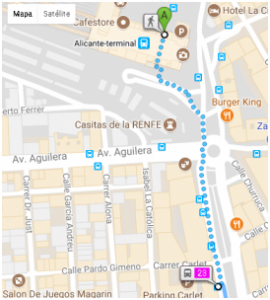 LETTER OF INVITATION
The organisers will be pleased to send a letter of invitation to any individual requesting one, once their registration and payment have been received. It is to be understood that such an invitation is intended to help potential participants raise travel funds or obtain a visa. It is not a commitment on the part of the congress to provide any financial support. Applications must be received before 30 September 2018. A refused visa application is no reason for refund. Please send requests for invitation letters to eventos@grupoesoc.es
IMPORTANT DATES
Mid July 2018: Decisions communicated to bursary applicants
19 October 2018: registration closes
If you have any questions about the registration or other queries, please contact conference organiser:
ESOC EVENTOS
Tel. +34 965 22 99 40; eventos@grupoesoc.es
On site information  will be made available on #EPNSALICANTE2018