13th EPNS Congress: 17-21 September 2019, Athens, Greece
EPNS members can view the Congress authorised presentations by clicking on the 'Members Area' tab above. Any queries email info@epns.info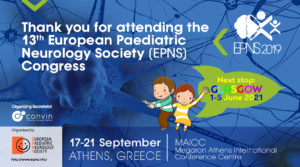 Greece hosted the 13th EPNS Congress at the Megaron Athens International Conference Centre in Athens on 17-21 September 2019. EPNS congress website http://www.epns2019.org/
The event was a great success: 1799 delegates from 75 different countries!
Sincere thanks to all organisers, speakers, chairs, supporters and delegates for making this such a wonderful success!
EPNS 2019 Congress' Book of Abstracts: now available to EPNS members via the EPNS Moodle
Photo Gallery: Check out the EPNS Congress 2019 Photo gallery and re-experience our wonderful meeting in Athens: CLICK HERE
Slides of presentations which have been authorised by the speakers can be viewed by clicking on the 'Members Area' tab above.
Full programme: CLICK HERE
Programme overview: CLICK HERE
Poster catalogue CLICK HERE
The main theme for the 2019 congress was Paediatric Neurology and Rare Diseases: Genetics & Environment, Progression & Transition thus, coinciding with the fact that 2019 has been declared as "the Year of Rare Diseases" Therapy, prognosis and outcome of rare diseases, as well as their progression & transition to adolescence and adulthood, represent important issues and challenges both for the family and the patients, as well as for the whole health system in general (health care professionals, industry and national authorities). A large number of pediatric but also adult specialists, apart from neurologists, are involved in the care of little patients with complex rare neurological diseases, thus highlighting the need of interaction and collaboration needed at the highest level in order to offer optimum therapeutic options and a better quality of life.
This prestigious congress covered, in plenary and parallel sessions, the following major topics: Emergency & critical care neurology, rare neurogenetic & neurometabolic diseases, clinical trials & registries, sleep, but also epilepsy, movement & neuromuscular disorders, intellectual disability and autism, among them.
Dimitrios Zafeirou, Chair EPNS Congress 2019
05/10/18 EPNS 2019 Congress – Newsletter Vol. 1: Save the Date
18/11/18 EPNS 2019 Congress – Newsletter Vol. 2: Preliminary Program & Faculty List
20/11/18 EPNS Congress 2019 – Newsletter Vol. 3: Abstracts, Registration, Accommodation
14/01/19 EPNS 2019 Congress – Newsletter Vol. 4: Programme, Abstracts, Bursaries, Registration, Accommodation
01/02/19 EPNS 2019 Congress – Newsletter Vol. 5: extended deadlines, programme, registration…
18/02/19 EPNS 2019 Congress – Newsletter Vol. 6: Deadlines approaching!
04/03/19 EPNS 2019 Congress – Newsletter Vol. 7
29/03/19 EPNS 2019 Congress – Newsletter Vol. 8
12/04/19 EPNS 2019 Congress – Newsletter Vol. 9
02/06/19 EPNS 2019 Congress – Newsletter vol 10
05/07/19 EPNS 2019 Congress – Newsletter vol 11
Invitation to the Neuro-MIG satellite at EPNS
Neuro-MIG EPNS Satellite 17SEP19_F
International Pediatric Stroke Organization (IPSO) meeting at EPNS