In recognition of our honorary EPNS member and internationally renowned French child neurologist, Professor Jean Aicardi (1926-2015), the EPNS in partnership with MacKeith Press https://www.mackeith.co.uk/, has established a series of award lectures. The biennial award recognises a respected and admired doctor who has attained major achievements in child neurology.  Recipients of the award must practice in Europe using the countries in the WHO European region. The award presentation and lecture take place at the EPNS Congress which is held every two years.
2022 (postponed from 2021)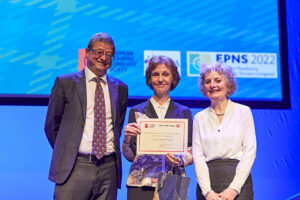 Professor Marjo van der Knaap (Netherlands) was presented with the prestigious 3rd Aicardi Award at the 14th EPNS Congress in Glasgow.
A world leading expert on white matter disorders and pattern recognition in leukodystrophies Professor van der Knaap through her clinical acumen, attention to detail and generosity of spirit has identified many new diseases, their genetic basis and now their treatments. An inspiring role model who has shown great dedication in training young paediatric neurologists, the EPNS is delighted to congratulate Professor van der Knaap. The award presentation and inspiring lecture entitled 'Leukodystrophies, a long journey' will took place at the EPNS Glasgow Congress Opening Session on Thursday 28 April 2022 at 19:00 and was a highlight of the congress.
2019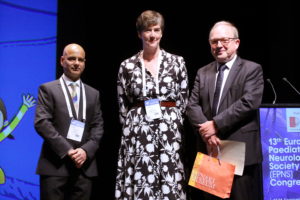 Professor Lieven Lagae was awarded the 2nd Aicardi Award Lecture at the 13th EPNS Congress.at the welcome reception in Athens on 17 September 2019. Lieven Lagae is Full Professor at the University of Leuven, Belgium (KUL), Head of the Paediatric Neurology Department of the KUL University Hospitals, and Director of the Childhood Epilepsy Program at the KUL University Hospitals. Lieven Lagae is the immediate past President of the European Pediatric Neurology Society He chairs the Taskforce on Medical Treatment of Childhood Epilepsy of the International League against Epilepsy (ILAE). From 2004 to 2015, he was the Editor-in-Chief of the European Journal of Paediatric Neurology.  In 2017, he was the recipient of the 'Cures within Reach patient impact Clinical Award'. He published >200 papers in peer reviewed scientific journals and is the editor of the book: Cognition and Behaviour in Childhood epilepsy (Mac Keith Press 2017). He serves in many editorial boards of epilepsy and neurology journals. The very well received talk was entitled 'Miss Understanding is the Greek Goddess of Clinical Research' and covered the problems, challenges, successes and failures of clinical research in paediatric neurology.
2017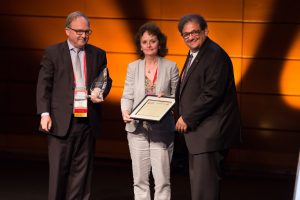 Professor Alexis Arzimanoglou received the first Aicardi Award at the 12th EPNS Congress which was hosted in Lyon 20-24 June 2017. Professor Arzimanoglou delivered an inspiring talk, and was presented with the award at the opening ceremony of the Congress.