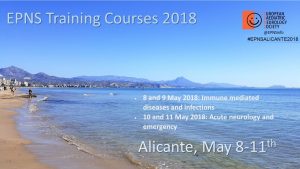 The first training courses took place in Alicante: 8 – 11 May 2018 and was fully booked within one week!
8 and 9 May 2018: Immune mediated diseases and infections
10 and 11 May 2018: Acute Neurology and Emergency
The event was a great success! Sincere thanks to the Coriene Catsman- Berrevoets and Francisco Carratala for their wonderful organisation, and all the faculty members for delivering a high class and inspirational programme: Banu Anlar, Thais Armangue, Eugen Boltshauser, Kees Braun, Kumaran Deiva, Rob. Forsyth, Martin Hausler, Wolfgang Müller -Felber, Rinze Neuteboom and Maja Steinlin.
Our heartfelt thanks go to all the participants for entering the spirit of the EPNS training courses and creating an interactive atmosphere – we hope new friendships and networks have been nurtured.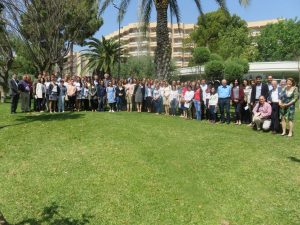 PRIZES
The standard of participant presentations was extremely high, and it is with great pleasure
we can announce the following 2 award winners – congratulations!
Best presenter: Signe Sitlere from Latvia
1st Runner up: Ala Fadilah from UK
General information
The EPNS has been organising training courses in paediatric neurology since 2003 specifically aiming at trainees but also at qualified paediatric neurologists who want to refresh their knowledge on certain topics. The aim is to cover most main topics in the syllabus over a three-year cycle and to promote contact between individuals in the speciality in different parts of Europe. The course has a highly interactive character and participants are encouraged to bring (difficult) cases to discuss. The number of participants is limited and applicants who wish to attend both courses will be given priority over those who wish to attend one of the two courses. The cycle of training courses 2015-2017 took place in Budapest, Hungary. The current cycle of training courses 2018-2020 is taking place in beautiful Alicante, Spain.
EACCME® accreditation
The EPNS Training Course 2018 Alicante, Alicante, Spain, 08/05/2018-11/05/2018 was accredited by the European Accreditation Council for Continuing Medical Education (EACCME®) with 23 European CME credits (ECMEC®s). Each medical specialist should claim only those hours of credit that he/she actually spent in the educational activity. Through an agreement between the Union Européenne des Médecins Spécialistes and the American Medical Association, physicians may convert EACCME® credits to an equivalent number of AMA PRA Category 1 CreditsTM. Information on the process to convert EACCME® credit to AMA credit can be found at www.ama-assn.org/education/earn-credit-participation-international-activities.
"Live educational activities, occurring outside of Canada, recognised by the UEMS-EACCME® for UNION EUROPÉENNE DES MÉDECINS SPÉCIALISTES EUROPEAN UNION OF MEDICAL SPECIALISTS Association internationale sans but lucratif – International non-profit organisation Avenue de la Couronne, 20 T +32 2 649 51 64 BE- 1050 BRUSSELS F +32 2 640 37 30
www.uems.net info@uems.net ECMEC®s are deemed to be Accredited Group Learning Activities (Section 1) as defined by the
Maintenance of Certification Program of the Royal College of Physicians and Surgeons of Canada.
Program Director:
Professor Francisco Carratala, Spain Twitter: @FranciscoCarrat
Head of the Scientific and Organising Committee:
Ass Professor Coriene Catsman-Berrevoets, The Netherlands
Members of the Scientific and Organising Committee:
Ass Professor Coriene Catsman-Berrevoets, The Netherlands
Professor Maja Steinlin, Switzerland
Prizes for the best participant case presentations will be awarded.
DATE & TOPICS
Immune mediated diseases and infections: 
Tues 8 May – Weds 9 May 2018
SCIENTIFIC ORGANISER:
Prof. Coriene Catsman- Berrevoets, Rotterdam, the Netherlands
 FACULTY
Prof Banu Anlar, Ankara, Turkey
Dr Thais Armangue, Barcelona, Spain
Dr Kumaran Deiva, Paris, France
Prof Martin Hausler, Aachen, Germany
Dr Rinze Neuteboom, Rotterdam, the Netherlands
Acute Paediatric Neurology and Emergency: 
Thurs 10 May – Fri 11 May 2018
SCIENTIFIC ORGANISER:
Prof Maja Steinlin, Bern, Switserland
FACULTY
Prof Em. Eugen Boltshauser, Zurich Switserland
Prof Kees Braun, Utrecht, the Netherlands
Ass Prof. Coriene  Catsman- Berrevoets, Rotterdam, the Netherlands
Dr R. Forsyth, New Castle, United Kingdom
Prof Wolfgang Müller -Felber, Munchen, Germany
VENUE
Hotel Complejo San Juan, Calle Doctor Pérez Mateos, 2 – 03550, San Juan (Alicante)