We were delighted that France welcomed the prestigious EPNS Congress at the Cité Internationale of the city of LYON on 20-24 June 2017, together with the 2nd EPNS Satellite Symposium on Advances in Neuromodulation in children: Neuronal Networks, Neurophysiology and Neuroplasticity on 19-20 June 2017 – directly before the EPNS Congress. The main theme of the congress was: Lifelong course of diseases of the child's nervous system
A total of 1,512 people were welcomed to the event from 73 different countries!
12th EPNS Congress: Programme
12th EPNS Congress: Photo gallery
Check out the EPNS Congress 2017 Photo gallery and re-experience our wonderful meeting in Lyon! EPNS CONGRESS 2017 Photo Gallery
12th EPNS Congress: Abstract Supplement 
http://www.sciencedirect.com/science/journal/10903798/21/supp/S1?sdc=1
Presentations available to download (only for members)
EPNS Congress 2017 Lyon authorised presentations are available to EPNS members by logging into the EPNS website using the 'I'm a member' link on the homepage and selecting 'EPNS Congress 2017′ from the top drop down menu 'Science & Research Congresses and Meetings'
Any questions: mail info@epns.info
AICARDI AWARD
(sponsored by MacKeith Press) For Excellence In Paediatric Neurology presented to Professor Alexis Arzimanoglou – congratulations!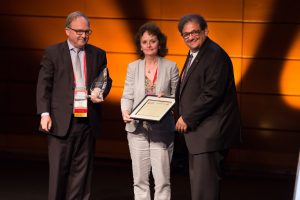 Best poster and Best oral presentations AWARDS:
2 awards were on offer, and the following 2 winners were presented with free congress ticket for the EPNS 2019 congress in Athens. Sincere congratulations to both – see you in Athens!
Best Oral Presentation:  Dr Belohlavkova from Czech Republic: Trends in paediatric epilepsy surgery 2000-2016
Best e-Poster Presentation: M.J.Gonzalez from Spain: DTI in early treated PKU
*