1st EPNS Cambridge Master Class – 'Paediatric Neurology meets Immunology meets Literature'  
17th to 19th  September 2015 at Corpus Christi College, Cambridge, United Kingdom.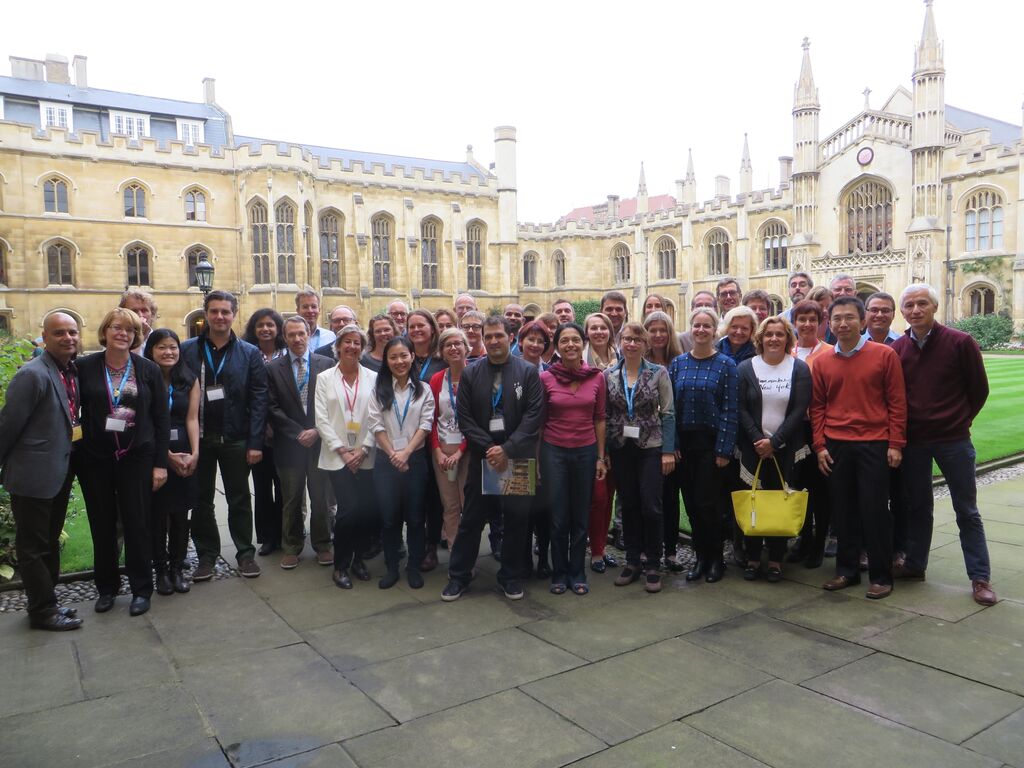 My colleagues and I on the EPNS Education and Training Committee are keen to continuously look at ways to achieve our goal to promote and improve clinical care and scientific research in the field of paediatric neurology. Our successfully established 3 year rolling programme of training courses are now a fixed part of the EPNS's foundation and we have therefore started to look for new innovative educational opportunities. I had the idea about the masterclass a few years ago and together with the support of my EPNS Board colleagues I was delighted to see the vision turn into a reality on 17th to 19th  September 2015 at Corpus Christi College, Cambridge, United Kingdom.
It was an entirely new concept where 21 Mentor-Young Neurologist couples were invited to a stimulating 'view beyond one's own nose' – discussions beyond the textbooks. In addition we wanted to include an in-depth-view to an actual topic in Paediatric Neurology. We chose Immunology. The name given to the event was 'Paediatric Neurology meets Immunology meets Literature'.
Upon arrival, the autumnal sunshine filtered through the majestic Corpus Christi building and it was clear this was going to be a special event. The organisational and preparatory work of Sue Hargreaves (EPNS) and Gabriele Stecher (LMU Munich) was outstanding – thank you. Our faculty did a splendid job and I would like to sincerely thank Coriene Catsman-Berrevoets, Rob Forsyth, Peter Baxter, Jean-Pierre and Richard Newton for creating a warm and open atmosphere. We were honoured to welcome our eminent invited speakers, who all succeeded in delivering excellent presentations and stimulating exciting ground breaking discussions. I must extend my sincere gratitude to David K Male,  Ming Lim, Lieven Lagae, Joseph Dalmau and Ronit & Mirjam Pressler for sharing their time and expertise, and inspiring the group. Personally for me the most outstanding part of the event was listening to Mirjam Pressler the author of "Treasures from the Attic: the Extraordinary Story of Anne Frank's Family". It was an extraordinary experience.
We were delighted to welcome a great group of participants who entered full heartedly into the spirit of the Masterclass. We have reviewed the evaluation forms, and of course there are areas for improvement, but it was with pleasure that I noted 81% of participants gave it an overall top rating of 'excellent'. To quote one participant 'An excellent course, well run, setting outstanding, teaching brilliant, fantastic opportunity to meet other young neurologists.'
It will be the next EPNS Board meeting this December and the EPNS Education and Training Committee will take the opportunity to discuss future educational initiatives.
Kind regards
Professor Florian Heinen, EPNS Treasurer and organiser of the 1st EPNS Masterclass