EPNS Meetings & Training Courses
EPNS Congresses
The EPNS Congresses are held every 2 years and invitations to bid to host future congresses are sent to all EPNS members at the appropriate time.
EPNS Congress 2019: 18-21 September 2019: Athens, Greece

EPNS Congress 2021: Glasgow, United Kingdom
European Research Meetings
The European Research Meeting on Paediatric Neurology is held every two years, always alternating with the EPNS Congress.The 6th EPNS Research Meeting 2018 will be taking place in Alicante, Spain on 26 – 27 October 2018.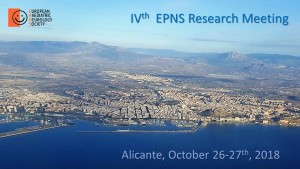 EPNS Trainings Courses
Six courses are held within 3 years on a fixed location with two separate courses back to back in one week. The cycle of training courses 2015-2017 took place in Budapest, Hungary.
We are excited to announce that the next cycle of training courses 2018-2020 will take place in beautiful Alicante, Spain. Program Director: Professor Francisco Carratala, Spain Twitter: @FranciscoCarrat
EPNS Training Course 2018: Alicante: Tuesday 8 May – Friday 11 May 2018:
8 and 9 May 2018: Immune mediated diseases and infections
10 and 11 May 2018: Acute Neurology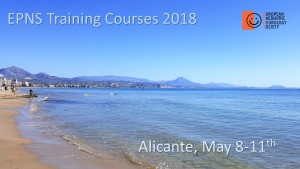 other meetings and training courses: 2018
| | | | |
| --- | --- | --- | --- |
| DATE | TOPIC | LOCATION | ORGANISER |
| 3-5 January 2018 | BPNA Annual Conference | London, United Kingdom | https://www.bpna.org.uk/conference/2018/ |
| 22 February 2018 | A Clinicians Guide to Neurogenetics in Children and Families | Cambridge, United Kingdom | A Clinicians Guide to Neurogenetics flyer |
| 27 February 2018 | A study day on mild Traumatic Brain Injury and Concussion in Children | Liverpool, United Kingdom | MILD TRAUMATIC BRAIN INJURY AND CONCUS SIONIN CHILDREN – V6 CPD approved |
| 19-21 March 2018 | ADHD Congress 2018 | Tel Aviv, Israel | http://adhdcongress.co.il/ |
| 4-7 April 2018 | International teaching course on EEG in the First Two Years of Life | Cambridge, United Kingdom | flyer_EEGcourse.docx |
| 8-11 May 2018 | EPNS Training Courses | Alicante, Spain | http://www.epns.info/epns-training-course-2018-alicante/ |
| 20-23 May 2018 | 1st International Residential Course on Movement Disorders in Childhood | Tagliacozzo, Italy | http://www.ptsroma.it/movdis-tagliacozzo/ |
| 28-31 May 2018 | 30th EACD Conference | Tbilisi, Georgia | https://eacd2018.net/ |
| 24-29 June 2018 | 12th Baltic Sea Summer School on Epilepsy (BSSSE 12) | Vilnius, Lithuania | http://www.epilepsiestiftung-wolf.de/ |
| 7-11 July 2018 | 11th FENS Forum of Neuroscience | Berlin, Germany | http://www.forum2018.fens.org/ |
| 26-28 October 2018 | EPNS Research Meeting | Alicante, Spain | http://www.epns.info/epns-research-meeting-2018/ |
| 30 October – 3 November 2018 | 7th Congress of the European Academy of Paediatric Societies (EAPS 2018) | Paris, France | http://www.eaps.kenes.com/2018 |
| 14-18 November 2018 | 15th ICNA Congress – ICNC2018 | Mumbai, India | http://icnapedia.org/ |
other meetings and training courses: 2019