This event has now taken place – thank you to all participants who entered into the spirit of the EPNS Masterclass and made it such an inspiring success.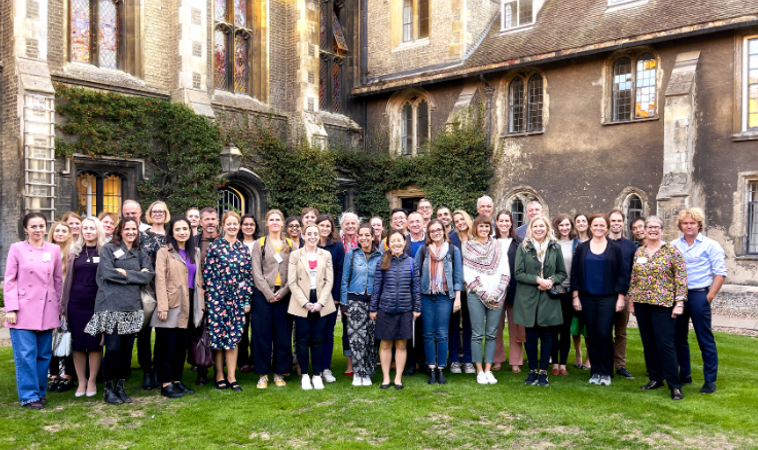 The EPNS Cambridge Masterclass has established itself as something special…Forty trainees and mentors in beautiful surroundings, grappling with some of the challenges of child neurology in the 21st Century. Past topics have included functional symptoms, medical futility, and allocation of scarce financial resources in an era of increasing medical possibility.
"A rare treat. I really appreciated the quality of the talks and the interaction between participants" (2018 delegate feedback)
 4th EPNS Masterclass: Corpus Christi College Cambridge, UK 
15-17 September 2022  (Thursday morning until Saturday lunchtime)
 Topic:

Inflamed minds, inflamed people

Masterclass Location:  Corpus Christi, Cambridge, United Kingdom.
Accommodation:  Corpus Christi and St Catharine's College en-suite single rooms. (Please note: these are student rooms and can be quite basic). You can register with accommodation or, for a reduced fee, without accommodation.
Programme: CLICK HERE
Number of participants: We are limiting numbers to 34 participants to preserve the interactive nature of the meeting.
Who can participate? Building on the unique features of our first three Masterclasses, this is a small, interactive meeting with – where possible – delegates attending in "couples" of a senior mentoring clinician and the leaders of tomorrow: to share and learn from each other in areas where often there are no easy answers. We encourage participants to register as a pair and complete the 'mentor/mentee couple registration form', however senior mentors and leaders of tomorrow are most welcome to attend without a partner, by completing the 'single person registration form' below for completion. Note: participants registering as a pair do not necessarily have to work at the same hospital but must have a mentor/mentee connection. We suggest the junior partner should be under 45, with a clinical practice in paediatric neurology and active in research and teaching.
Organising Committee
Dewi Bakker (Netherlands), Rob Forsyth (UK), Lucia Gerstl (Germany), Florian Heinen (Germany), Joe Symonds (UK), Mia Westerholm-Ormio (Finland) .
Confirmed Speakers:
Werner Bartens, Manon Beriche, Georgie Bevan, Ed Bullmore, Hans Jürgen Christen, Rob Forsyth, Ben Goldacre, Rachel Kneen, Ashley Liew, Ming Lim.
Registration Fee: With accommodation included is 400 Euro per person OR 700 Euro per couple.
Or you can register with NO accommodation included for 250 Euro per person OR 450 Euro per couple:
The registration fee with accommodation included covers:
three nights' accommodation (Wednesday, Thursday, and Friday) with breakfast at either Corpus Christi or St Catharine's College in a single STUDENT room with en-suite facilities.
All registration fees include:
access to the full Master Class programme
lunch on Thursday, Friday, and Saturday
a conference dinner in the College dining hall on Friday evening followed by an open after-dinner discussion of issues arising. (Please note, the capacity in the Dining Hall is sufficient to accommodate all participants but we are unlikely to be able to accommodate accompanying partners).
Coffee and tea during all breaks.
If you register as an individual with no partner, you are most welcome and we will strive to find another delegate to become your partner.
Attendees are responsible for organising their own transport and any additional nights' accommodation. If advice regarding accommodation is required, please email info@epns.info
Optional Social Event on Thursday evening: 50 Euros per person:
Punting (or guided walk if raining)
Organ recital at Magdalene college
3-course Dinner at 'The Eagle', a traditional English pub opened in 1667 where Watson and Crick celebrated discovering DNA and 100's of WW2 RAF pilots left behind a wall of messages in the hope they were never forgotten.
Note: drinks at The Eagle are NOT included in this price. Guests need to purchase their own drinks from the bar.
Registration is closed
We recommend you take out appropriate insurance. 
Important: The EPNS Masterclass 2022 booking form constitutes a binding agreement. By submitting your booking form, you are accepting the: EPNS Cambridge Master Class 2022 TERMS & CONDITIONS
I***********************************************************
EPNS Masterclass Terms and Conditions
The EPNS Masterclass 2022 booking form constitutes a legally binding agreement. By submitting your booking form, you are accepting the following terms and conditions:
Confirmation
Full payment of the registration fee must have been received before your place at the EPNS Masterclass 2022 is confirmed. If you have not received confirmation and/or final information 10 days prior to the Masterclass, please contact the local organising office on info@epns.info The EPNS cannot be held for responsible for non-arrival of information.
Cancellation Policy
If you cancel your attendance after registration payment has been paid, you will not be eligible for a refund however substitutions of delegates may be accepted before the event. Contact info@epns.info for guidance.
Cancellations
We will do our best to ensure that the Masterclass 2022 goes ahead, but we reserve the right to cancel at any time. Where we are forced to cancel the Masterclass as a result of events arising which are outside of our control, we will have no obligation to offer a refund of your Masterclass 2022 registration fee. In addition, we will not meet the costs of any prebooked accommodation or travel. If you wish to cancel your attendance at the EPNS Masterclass 2022 you must do so by contacting info@epns.info
We recommend you take out appropriate travel insurance.
Non-Arrivals
Although substitutions may be accepted by notifying info@epns.info prior to the event (as set out above), non-arrivals will be liable for the full fee of the EPNS Masterclass 2022.
Changes to EPNS Masterclass 2022 programme
Although we will do our best to follow the published programme in the stated venue, we reserve the right to make changes (including the venue, the guest speakers and the times of their presentations). In the event that any such changes are made, no refund of the EPNS Masterclass 2022 fee shall be made.
The views expressed by guest speakers are theirs alone and do not necessarily represent those of EPNS. We can take no responsibility for the content or the accuracy of the speakers' presentations.
Marketing
Photographs and videos may be taken on-site capturing material that may be used for future marketing and promotional purposes via the EPNS website and EPNS social media platforms. By completing this registration form, you are accepting that if photograph(s) and/or video footage are taken of you at the event, the EPNS owns the right to use the materials. Email info@epns.info if you have any concerns.
Personal Data
By completing the online registration form, you are agreeing for your details to be shared with the EPNS Membership Secretary and any relevant members of the EPNS Masterclass faculty/organisation team. Your details will not be shared with any third-party company apart from Corpus Christi College and their partners. Email info@epns.info if you have any concerns.
Liability
The EPNS, Corpus Christi College and St Catharine's College accepts no liability for death, illness, injury, any loss, cost or expense suffered by any person (including accompanying persons).