7th EPNS Research Meeting: 29-30 May 2020
Karolinska University Hospital, Stockholm, Sweden
CANCELLED as a result of the Coronavirus outbreak.
THE FOLLOWING IS FOR INFORMATION ONLY
Child Neurologist researchers at all stages of their career networking, collaborating and building research networks. 
Registration fee until 1 May 2020: 1400SEK (approx. 130€) includes: participation in the meeting, lunches and coffee breaks. Dinner Friday 29 May 2020 is not included in the registration fee. You can purchase a ticket for the dinner at an additional fee of SEK220 (approx. 20€). According to Swedish and EU legislation 25% VAT will be added to the registration fee before payment. All fees are in Swedish Krona = SEK.
Important: The EPNS Research Meeting 2020 online registration constitutes a legally binding agreement. By submitting your online registration form, you are accepting the: EPNS RESEARCH MEETING 2020 terms and conditions
TO REGISTER:
NOT AVAILABLE
STRAIGHT AFTER REGISTRATION: Working Group Attendance: Information required by email: CLICK HERE (your registration will not be complete until you have notified [epns2020@kbh.ki.se] which two Working Groups you want to join).
Each Working Group has a maximum of 40 participants. Working Group registrations will be accepted on a first come first served basis via email.
In response to the COVID-19 (Novel Coronavirus) situation, the European Paediatric Neurology Society (EPNS) would like to issue the following statement: CLICK HERE
Cancellation Policy: CLICK HERE
Accommodation and Travel: All delegates are responsible for organising and paying for their own travel and accommodation. We recommend you take out appropriate insurance. Scroll down for guidance about hotels and travel. 
EPNS Research Prizes: Two prizes of 2,500 Euros per person awarded to young neurologists who present outstanding, innovative ideas in research in Paediatric Neurology.
Draft programme: 
Note: scroll down for more information about each of the 8 Working Groups*
Friday 29 May 2020 (day 1)
10:00 Arrival, registration & welcome coffee
10:45 Welcome
11:00 Plenary lecture: Anna Lindstrand: "Zebrafish models of genetic neurological disorders"
11:45 Lunch
13:00 Working groups 1-4:
| | |
| --- | --- |
| 1 | Autoimmune and Infectious Diseases* |
| 2 | Movement disorders* |
| 3 | Neurometabolic* |
| 4 | Stroke* |
16:00 Break
16:30 Working groups 5-8:
| | |
| --- | --- |
| 5 | Ataxia* |
| 6 | Epilepsy* |
| 7 | Neonatal Neurology & Developmental Neurology* |
| 8 | Neuromuscular* |
19:30 Social event
Saturday 30 May 2020 (day 2)
09:15 Plenary lecture: Nadia Bahi-Buisson: "How to raise EU projects"
09:45 Plenary lecture: Petter Brodin: "The Neuro-immune Interface in Health and Disease"
10:30 Break
11:00 Selected projects from the working groups
12:30 Awards with presentation from winners. Closure
13:00 Farewell lunch
8 Working Groups*: please contact your Working Group Chair directly if you intend to present a project. Note: you can present a new project, an idea, or a starting/ongoing project. Apart from those attending with a bursary, it is not necessary to present a project.
EPNS Working group and Description

Chairs
Au

toimmune and Infectious Diseases

working group  welcomes contributions addressing all aspects of inflammatory CNS diseases, including autoimmune disorders, infectious diseases and further inflammatory processes affecting the nervous system. Primary goal of the group is to present own research projects. This may include presentations on finished and on newly planned projects. Proposals with calls for collaboration are particularly encouraged

Kevin Rostasy (Germany)  & 

Martin Häusler Germany) EMAIL 
Ataxia: Research in the field of cerebellum and ataxia is growing fast over the last decade. During this workshop on ataxia we would like to hear your preliminary ideas on upcoming or ongoing projects on cerebellar problems. Part of our time will also be dedicated to discuss on International- European collaborations on fetal imaging and its consequences for children affected with infratentorial abnormalities.
Maja Steinlin (Switzerland) EMAIL  & Deborah Sival Netherlands) EMAIL
Epilepsy: The epilepsy working group is a very active formation of epilepsy researchers throughout Europe (with many collaborations overseas) who have collaborated in many successful projects and studies over the last years. During the working group meeting in Stockholm (29-30May 2020, we have invited Torbjorn Tomson to give a keynote presentation entitled "Contribution of pregnancy registries to improved pregnancy outcomes in women with epilepsy". Thereafter, we would like to give the floor to young researchers in the field, and we invite members of ICNA, EPNS and EPICARE, the ERN on epilepsy, to prepare few slides on ongoing projects in their department, and if they wish collaboration with other paediatric epilepsy centres.  We invite young researchers to submit their abstracts before February 16. If you do not plan to present your work, we would like to encourage you to attend our working group to participate in lively discussions of new studies and ongoing projects.   We look forward to receiving your contributions and to meeting you in Stockholm. 
Lieven Lagae (Belgium) EMAIL & Floor Jansen (Netherlands) EMAIL
Movement Disorders Working Group for the EPNS Research Meeting in Stockholm 29-30th May 2020 invites you to present your work on any aspect of movement disorders in children and young people. The purpose of the meeting is to allow clinical science researchers to discuss their work, which can span any aspect from the bench to the bedside, in an interactive, positive, and stimulating program and setting. We are particularly interested in clinicians, including allied health professionals, currently or recently involved in work leading to a doctoral thesis. Please contact both of us with a synopsis of your ideas and proposals for the meeting! 
Chair Jean-Pierre Lin (UK) EMAIL &  Michel Willemsen (Netherlands) Co-Chair EMAIL
Neonatal Neurology & Developmental Neurology: The scientific programme and discussion will cover newest research data on models of perinatal brain hypoxia and ischemia, excitotoxic injury, their effects and their contribution to clarify the pathophysiology of acquired neonatal brain injury. We will include for the first time, groups interested in brain development, including fetal neurologists and specialists of cortical malformations from basic scientist, neuro(foeto)pathologists, fetal radiologist to pediatric neurologist. You are welcome to bring your own ideas, to inform about your own model, to get help in choosing an appropriate model for your own research questions. We would like to develop collaborative work within this group, from basic scientists to clinics. Information on neuroprotective strategies will be shared and possible joint research on fetal and perinatal brain injury will be discussed. We are looking forward to the presentation of your own ongoing research in this area – whether close to publication or just starting a new project: come to Stockholm to discuss your work with us! We will give you 15-20 min slots for presentation and discussion! Please submit your contribution with a title and 2-3 sentences on the topic. If you do not plan to present your work, we would like to encourage you to attend our working group to participate in lively discussions of ongoing projects.
Regina Trollmann(Germany) EMAIL

 

& Nadia Bahi-Buisson France) EMAIL
Neurometabolics: The Neurometabolic Working Group is happy to accept research projects on pathomechanisms, diagnosis, care and treatment of paediatric neurometabolic disorders. The provided platform will enable stimulating and substantial input from experts and peers alike, and offers a great opportunity to establish or strengthen European research networks in the field of neurometabolic disorders in child neurology. We explicitly encourage young researchers to present projects at various stages of realisation – from application or recruitment to preliminary conclusions or final results. See you in Stockholm. 
Barbara Plecko (Austria) EMAIL   & Dimitrios Zafeiriou Greece) EMAIL
Neuromuscular: The Neuromuscular Working Group aims to discuss the latest research developments relevant for the diagnosis, care and treatment of paediatric neuromuscular diseases. The discussion will focus on the application of new approaches for clinical trials, implementation of novel therapies, and the European reference network for neuromuscular diseases (EURO-NMD). Further, new developments and pitfalls in genetic diagnosis, impact of standards of Care, and transition to adulthood care will be discussed. The working group session also will offer an opportunity for scientists and clinicians to present and discuss own research ideas and results.
Thomas Sejersen (Sweden) EMAIL& Guenther Bernert (Austria) EMAIL
Paediatric Stroke: We are happy to invite you to the 3rd meeting of the Paediatric Stroke Working Group in Stockholm, 29-30 May 2020. After a keynote lecture we will be happy to learn more about your research projects  in childhood neurovascular disorders (planned or already ongoing) and to discuss possibilities for a collaborative network. Ideas for research networks sometimes appear from unsolved cases – so please bring any interesting cases and/or diagnostic/management questions  to our next meeting in Stockholm! We are really looking forward to seeing you there!
Finbar O´Callaghan (UK) EMAIL & Lucia Gerstl (Germany) EMAIL
MEETING VENUE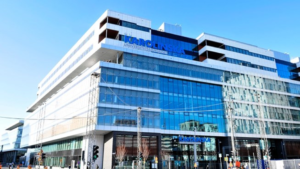 Sune Bergström Auditorium, Karolinska University Hospital Solna, Eugeniavägen 3, 171 76 Stockholm
Follow signs from main entrance at hospital at Eugeniavägen 3. Sune Bergström Auditorrium located 100 m straight ahead after entering through main entrance.
Registration desk: located outside Sune Bergström Auditorium
WiFi: SLL-Guest / Register online for free
TRANSPORT
Transport from Arlanda airport to Stockholm: Stockholm-Arlanda Airport is located 40 kilometers (25 miles) north of Stockholm City.
Flygbussarna Airport Coaches: http://www.flygbussarna.se depart every 10-15 minutes between Arlanda Airport and the City Terminal (located next to the Central Station). Travel time to City Terminal: 35-45 minutes. Price 99 SEK one-way.
The Arlanda Express: www.arlandaexpress.com train takes you from Arlanda Airport to the city center. The platform is easily accessible, underneath the arrival terminals. Departure: every 15 minutes (for most of the day). Travel time: 20 minutes. Price one-way 299 SEK, return 579 SEK.
Taxis: available directly outside all terminals. You'll only find taxis at the taxi stand that have an agreement with Stockholm Arlanda Airport. Travel time: Stockholm to Arlanda Airport: app 30-40 minutes.
Please note: Taxi fares in Sweden aren't regulated, which means that prices can vary significantly between companies. Always ask the driver before you start your trip about what price is in effect.
Transportation to meeting venue, Karolinska University Hospital Solna
Metro: St Eriksplan is closest Metro station, appr 1.1 km (14 min walk) from meeting venue. From St Eriksplan you can take bus to Karolinska University hospital.
Bus: the bus stop closest to the meeting venue is called "Karolinska sjukhuset Eugeniavägen". You can take from St Eriksplan take e.g. bus lines 3, 6, 67, or 77. Please note that it is not possible to purchase tickets on-board the bus.
For ticket information (metro and bus); please visit www.sl.se/en
NEARBY SUGGESTED HOTELS
Hotel Stallmästaregården: https://stallmastaregarden.se/ Email:info@stallmastaregarden.se Tel: +46 8 610 13 00 Address: Stallmästaregården, Norrtull 113 47  Stockholm
Elite Hotel Carolina Tower https://www.elite.se/en/hotels/stockholm/hotel-carolina-tower/  Email:info.carolinatower@elite.se Tel:      +46 8 400 071 00 Address: Eugeniavägen 6, 171 64  Solna
Elite Palace Hotel https://www.elite.se/sv/hotell/stockholm/palace-hotel/  Email:info.palace@elite.se Tel:+46 (0) 8-566 217 00  Address: S:t Eriksgatan 115 113 43 Stockholm
First Hotel Norrtull https://www.firsthotels.se/hotell/sverige/stockholm/first-hotel-norrtull/ Email:info@hotelnorrtull.se Tel: +46 8 30 03 50 Address: Sankt Eriksgatan 119 113 43 Stockholm
Blique by Nobis https://www.bliquebynobis.se/ Email: info@bliquebynobis.se Tel:+46 8-557 666 00 Address: Gävlegatan 18           113 30 Stockholm
Time Hotel Stockholm https://www.timehotel.se/ E-mail: info@timehotel.se Tel: +46 8 545 473 00 Address: Vanadisvägen 12           113 46 Stockholm
NEARBY SUGGESTED HOSTELS
Lilla Brunn Hostel https://www.lillabrunn.se/ E-mail: info@lillabrunn.se Tel: +46 8 22 92 30 Address: Surbrunnsgatan 44               113 48 Stockholm
Generator Hostel https://staygenerator.com/hostels/stockholm/ Tel:+46 8 505 323 70 Address: Torsgatan 10 111 23 Stockholm
Stockholm Hostel https://www.stockholmhostel.se/ E-mail: info@stockholmhostel.se Tel: +46 70 156 55 25 Address: Alströmergatan 15 112 47 Stockholm
Old Town Lodge https://www.oldtownlodge.se E-mail: guest@oldtownlodge.se Tel: +46 8 20 44 55 Address: Baggensgatan 25        111 31 Stockholm
EPNS RESEARCH MEETING 2020 TERMS & CONDITIONS
During on-line registration, participants must agree to the following:
Confirmation: Full payment of the registration fee must have been received before your place at the EPNS Research Meeting 2020 is confirmed. If you have not received confirmation and/or final information 10 days prior to the research meeting, please contact the local organising office on epns2020@akademikonferens.se  The EPNS cannot be held for responsible for non-arrival of information.
Accommodation and Travel:All delegates are responsible for organising and paying for their own travel and accommodation.
Cancellation Policy: If you cancel your attendance after registration payment has been paid, you will not be eligible for a refund however substitutions of delegates may be accepted before the event. Contact epns2020@akademikonferens.se for guidance.If you have been awarded a bursary and cancel, email info@epns.info immediately.
Cancellations: We will do our best to ensure that the EPNS Research Meeting 2020 goes ahead, but we reserve the right to cancel at any time. If the event is cancelled, we will offer a full refund of your EPNS Research Meeting 2020 registration fee. We will not meet the costs of any pre-booked accommodation or travel. If you wish to cancel your attendance at the EPNS Research Meeting 2020 you must do so by contacting epns2020@akademikonferens.se
We recommend you take out appropriate insurance.
Non-Arrivals: Although substitutions may be accepted by notifying epns2020@akademikonferens.se prior to the event (as set out above), non-arrivals will be liable for the full fee of the EPNS Research Meeting 2020.
Changes to EPNS Research Meeting 2020 programme: Although we will do our best to follow the published programme in the stated venue, we reserve the right to make changes (including the venue, the guest speakers and the times of their presentations). In the event that any such changes are made, no refund of the EPNS Research Meeting 2020 fee shall be made. The views expressed by guest speakers are theirs alone and do not necessarily represent those of EPNS. We can take no responsibility for the content or the accuracy of the speakers' presentations.
Marketing: Photographs and videos may be taken on-site capturing material that may be used for future marketing and promotional purposes via the EPNS website and EPNS social media platforms. By completing the online registration form, you are accepting that if photograph(s) and/or video footage are taken of you at the event, the EPNS owns the right to use the materials. Email epns2020@akademikonferens.se if you have any concerns.
Personal Data: By completing the online registration form, you are agreeing for your details to be shared with the EPNS Membership Secretary and relevant EPNS Research Meeting 2020 Working Group Chairs. Your details will not be shared with any third-party company apart from Akademinkonferens, the local professional organisation company who are administering the registration. Email epns2020@akademikonferens.se if you have any concerns.
Liability: The EPNS and Akademinkonferens accept no liability for death, illness injury, any loss, cost or expense suffered by any person (including accompanying persons)