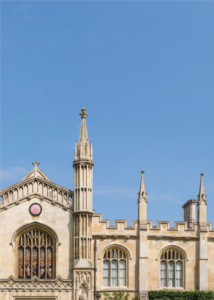 The EPNS Cambridge Masterclass has established itself as something special…
Forty trainees and mentors in beautiful surroundings, grappling with some of the challenges of child neurology in the 21st Century. Past topics have included functional symptoms,medical futility and allocation of scarce financial resources in an era of increasing medical possibility.
"A rare treat. I really appreciated the quality of the talks and the interaction between participants" (2018 delegate feedback)
4th EPNS Masterclass: Corpus Christi College Cambridge, UK
10-12 September 2020
Topic: Neurology in a 'post-truth' World
Truth has become a lifestyle choice.We live in an era when even the most robust facts can be disputed or dismissed. Mis-truths are propagated, exaggerated and entrenched by communities polarised through social media. Global warming is a myth because I want to believe so. Vaccines cause autism because I read about it on Facebook, and those who deny it are the tools, or fools, of Big Pharma. The primacy of scientific method is under threat, but we have to acknowledge its enemies make some valid criticisms. Results are marred by publication bias, perverse commercial and professional incentives, and occasional outright academic fraud. Everyone is talking about the "replication crisis". Science advances one funeral at a time. Faced with a parent convinced her child's problems are due to chronic Lyme Disease; that seizures will be cured by nutritional supplements, or a stroke by stem cells how do we respond? Systematic reviews and p values? After all it's not that long ago that "treating" homosexuality with chemical castration, and schizophrenia with insulin coma were medical orthodoxy. How can we be sure the advice we are giving is any better?
Themes (subject to confirmation)
• Public understanding of risk and coincidence
• Bad science and how to defend against it
• Social media: tribes and polarisation
• Current evidence in controversial subjects – including adverse effects of vaccines and disputed diagnoses such as PANDAS/PANS and chronic Lyme infection
With a world-class faculty with backgrounds in philosophy, cognitive science, behavioural psychology and including parental views
Save the date, and email info@epns.info to be put on the mailing list for application forms when they become available.