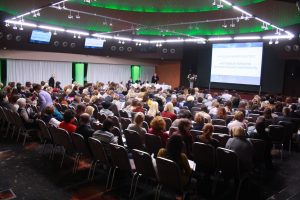 The 1st National Congress on Current Issues of Perinatal Neurology has been held in Kiev, Ukraine on 23-24 November 2017. 379 participants – neurologists, neonatologists and paediatritians gathered at the Hall of the Hotel Khreschatyk to celebrate knowledge in the field of neurology in very young children. The main organizers of the congress were: National Academy of Medical Sciences and its President Academician Vitaliy Tsymbalyuk,  Institute of Pediatrics, Obstetrics and Gynecology of NAMS of Ukraine and its Director Academician Yuriy Antipkin , and President of Association of Child Neurologists of Ukraine Professor Ludmila Kirilova. EPNS actively supported the event delegating to Kiev three speakers: Barbara Plecko, Ronit Pressler and Jeroen Dudink. Presented lectures on Neurometabolic disorders, Seizures in neonates and Neonatal Ischemic Stroke were accepted with great interest and evoked lively discussion.
Also there were 15 local speakers who presented on Epilepsy, autism, Neuronal ceroid lipofuscinosis, mimickers of neuroborreliosis in children etc.
We believe that the Congress will be the start of new international communications and partnership in the field of Paediatric Neurology.
Our next meeting will be in Truskavets as a pediatric section of the Congress on Actual Issues of Neurology in April 2018. We hope that colleagues from different European countries will participate the Congress.